It's not surprising that holiday sales account for a significant amount of retailers' sales. In fact, holiday shopping can account for as much as 30% of a U.S. retailer's annual sales. Despite concerns around inflation, labor shortages, and supply chain issues, sales for the 2021 holiday season in the U.S. increased by 14.1% from the previous year, breaking a new record at $886.7 billion.
Brands are continually searching for engaging and entertaining campaigns to capitalize on holiday sales pushes. A 3D virtual store offers a new experiential shopping format and serves as a viable sales channel. With a virtual experience, brands can create an environment that is modeled off of their retail store, a creative concept store, or a completely fantastical location.
Key benefits of holiday virtual stores:
A new and engaging virtual channel to drive sales
A unique, interactive, and discovery-driven shopping experience
Lower production costs for CGI visuals compared to on-location shoots
Below are some examples of some retailers who have successfully created holiday virtual stores. These experiences, all powered by Obsess, incorporated unique e-commerce and content features that allow users to engage on a more immersive and enriching level than traditional e-commerce sites.
Sam's Club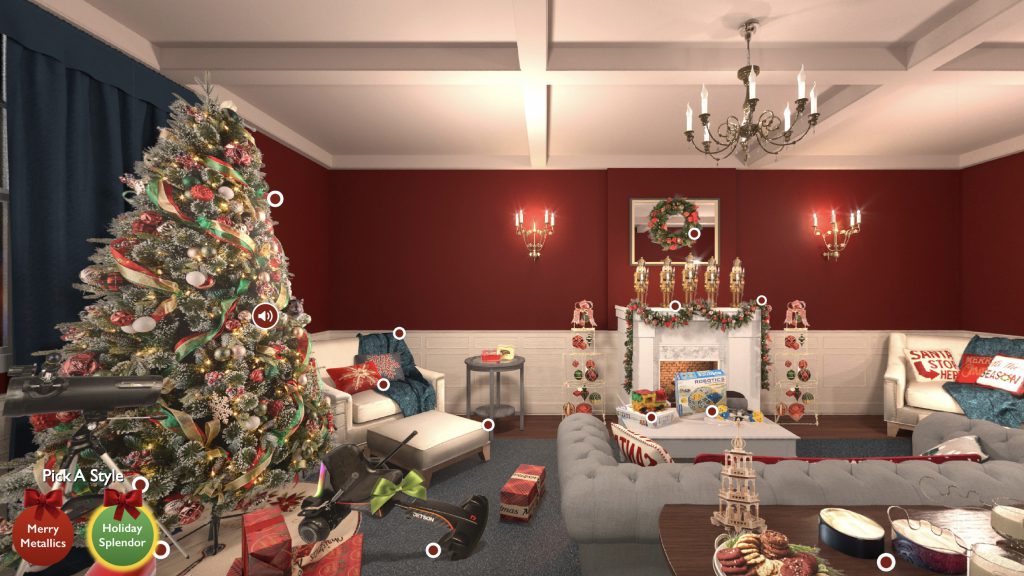 Sam's Club created a holiday virtual store, providing its consumers with an immersive and discovery-driven way to shop. The store was a 3D recreation of the Griswold family house from the hit 1989 holiday movie, 'National Lampoon's Christmas Vacation'. It allows users to browse Sam's Club holiday essentials in a familiar and beloved setting.
When first entering the store, users will notice two ornaments on the corner of the screen that can be switched between different styles of Christmas décor. In the dining room, users can switch between a Thanksgiving table setting and a Christmas table setting. The functionality enables users to see different sets of products associated with each style and provides a personalized experience.
Users can tap on any product within the experience to shop it. They can also interact with a variety of hotspots that reveal movie trivia and sound effects. The content helps further immerse the user into the store resulting in higher engagement and conversion.
theSkimm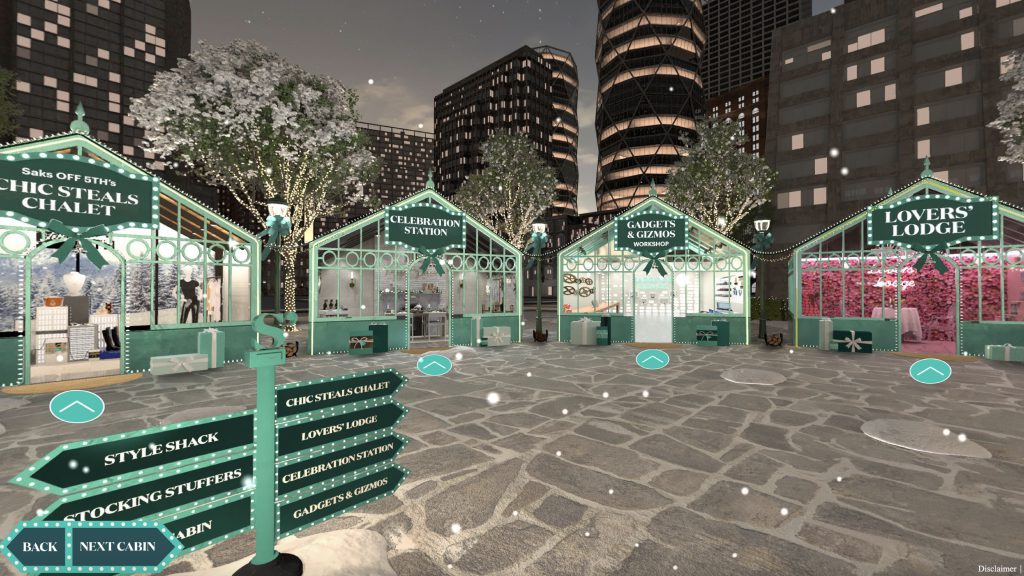 The media brand theSkimm created a cozy and magical virtual holiday shopping experience called the Holiday Village, inspired by the design of the Bryant Park holiday village in New York City and set in a virtual Bryant Park. The virtual store was part of their seasonal gift recommendation guide called "The Sleigh List" which contains the year's hottest gifts. The Holiday Village visually represents the gifts in their list of recommendations in an immersive and engaging way.
The experience consists of seven shopping cabins that each contain different kinds of gifts such as stocking stuffers, gifts for significant others, electronics, and more. Clicking on any product shows summary information about it, and then the user can click through to the individual brand's website to make the purchase, earning theSkimm affiliate revenue.
In addition, theSkimm was able to create a new revenue source of sponsored content, with Saks Off 5th sponsoring one of the cabins, that featured their branding and products. This experience won theSkimm an award for the Best Use of Native Advertising / Sponsored Content in Digiday's Content Marketing Awards.
Charlotte Tilbury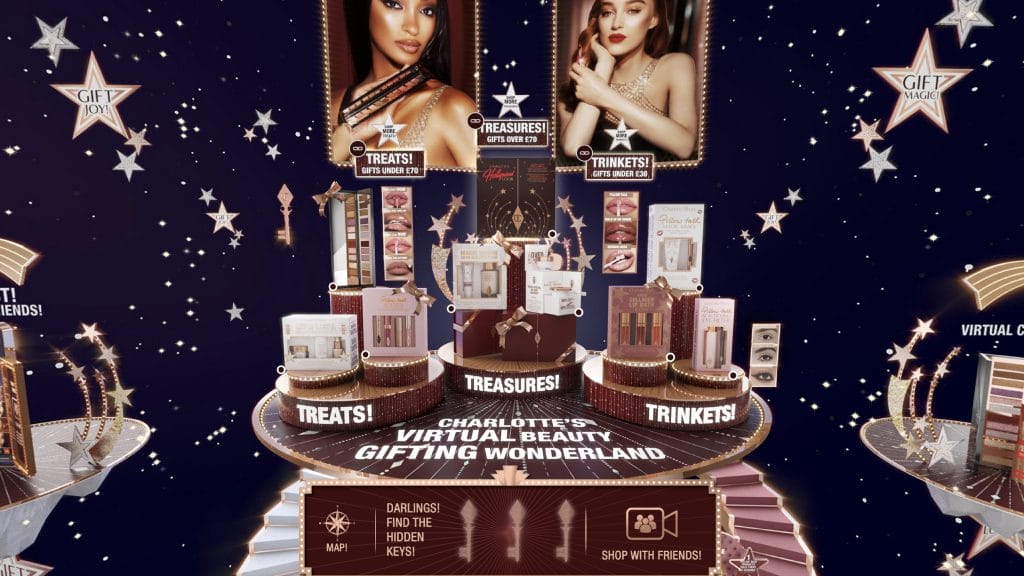 Charlotte Tilbury's Virtual Beauty Gifting Wonderland offers a virtual holiday experience for beauty consumers and is a great example of where virtual shopping is headed. As users enter the whimsical 3D wonderland, they are immersed in stars and fairy animations and guided by a "Magic Charlotte" digital avatar.
"My three-dimensional Virtual Beauty Gifting Wonderland is at the center of the Charlotte Tilbury metaverse this holiday season," said Charlotte Tilbury MBE, founder, president, chairman and chief creative officer of Charlotte Tilbury Beauty. "It combines all the sparkle and retail theater of our stores with the ease and portability of the digital universe to unveil a truly immersive Charlotte Tilbury experience. Customers will be guided by my Magic Charlotte avatar to enjoy the magic of in-store from the comfort of their own home. Digital innovation is at the heart of everything we do, and I am so excited that we can bring this beauty tech to life for you to shop and play this holiday."
Within the virtual store, customers can shop and receive personalized advice and product recommendations, join live events with Tilbury and special guests, and watch makeup and skincare tutorials. Utilizing the Obsess Shop with Friends functionality, Charlotte Tilbury customers can opt to invite friends to join them during their virtual store shopping experience by sharing a link to the virtual store via email or text. The Shop with Friends feature allows individuals in the group to see and hear one another as they navigate the virtual environment separately or together, similar to the experience of a multiplayer video game.
Salvatore Ferragamo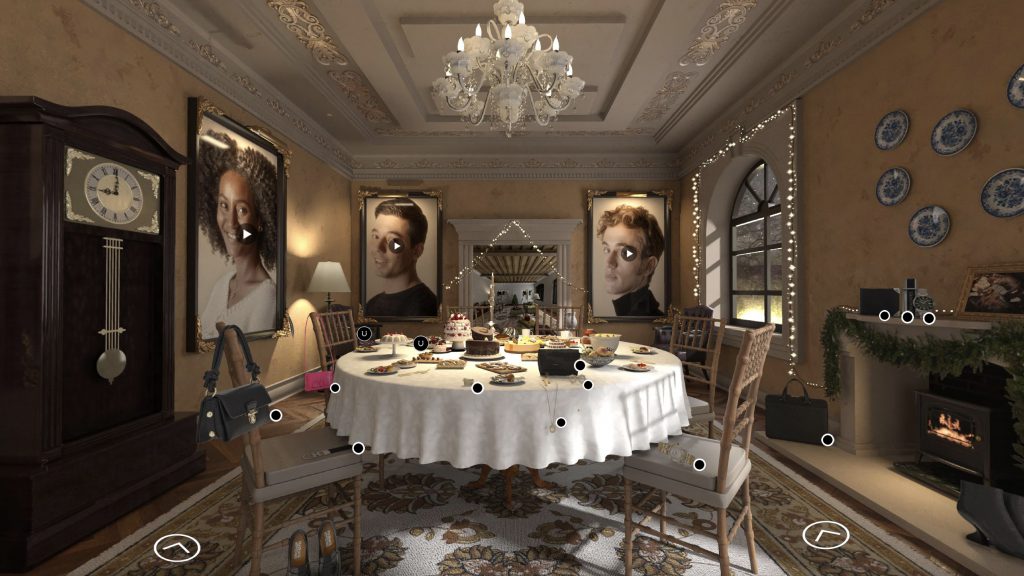 Italian luxury fashion house Salvatore Ferragamo created a holiday virtual experience called House of Gifts, set in a spectacular villa in Tuscany at dusk. Customers journey through 3D-rendered rooms in the villa such as the library, the dining room, the piano room, and the projection room, all contextually merchandised with Ferragamo products. The space is inspired by Ferragamo's "Movie O'Clock" campaign and provides customers with an elegant digital holiday shopping experience as a unique way to engage with the brand.
Throughout the virtual store, shoppers have the opportunity to view products with detailed descriptions and add them to cart right within the store or to a holiday 'wishlist'. The wishlist can then be shared with friends via WhatsApp or email.
The experience also features a gift suggestion quiz. Based on users' responses, the quiz will recommend products from the store. This capability can be added to any virtual store and enables brands to collect first-party data, while further engaging shoppers to make a purchase.
Tommy Hilfiger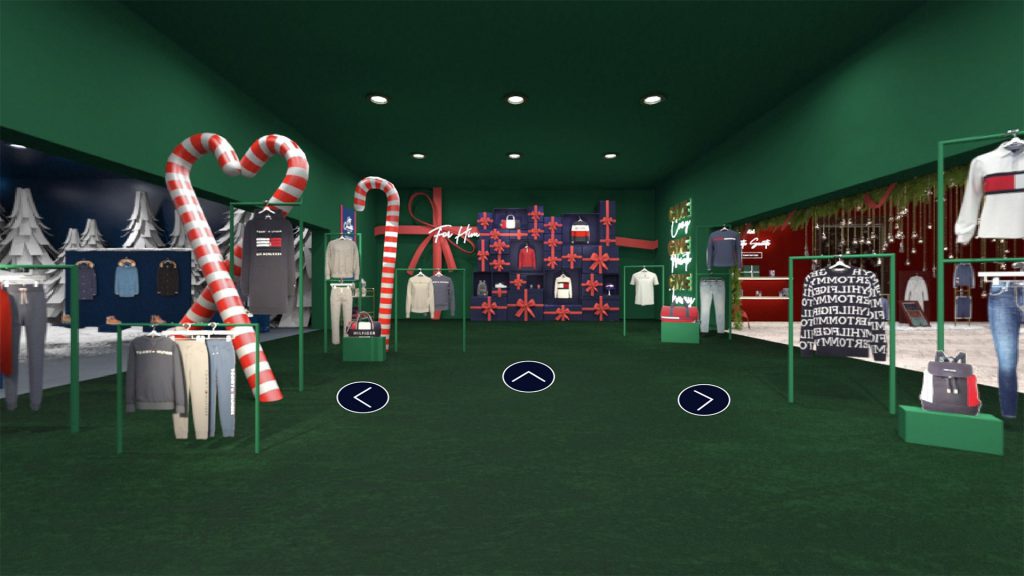 Tommy Hilfiger launched a holiday virtual store with enormous candy canes, mountains of presents, twinkling stars, and furry snow-white rugs. Also included are a variety of interactive experiences to enhance user engagement such as the "All of Our Favorite Scents" game where the user can click on a scent and receive instructions for a Tommy DIY Diffuser. The "Tommy Hilfiger Hot Chocolate Bar" gives recipes for a Caramel Spice, CoolHaus' Dirty Mint Hot Chocolate, or Fatty Sundays Mint Hot Chocolate. The "Get All Wrapped Up" section is an educational experience in which users can watch a short video on sustainable gift wrapping with activist influencer GreenGirlLeah. The Tommy Hilfiger virtual store provides consumers with holiday cheer, décor, music, and entertainment through a highly interactive virtual sales channel.
These examples only scratch the surface of the limitless possibilities that can go into your next digital holiday experience. Virtual stores allow brands to create completely custom, immersive, and discovery-driven experiences while cutting the cost and maintenance of a physical holiday experience. They equip brands and retailers with a new competitive virtual sales channel that increases click-through rates, customer engagement, and conversions. To find out more information on how you can create your own holiday virtual experiences, click here.