Charitable organizations launch some of their biggest donation campaigns during the holidays, but the need for mission-driven marketing persists all year round.
With 18% of annual donations happening in December—the holidays, in particular, present brands with the chance to embrace impactful innovation, which drives fundraising and encourages giving (Blackbaud Institute, 2022). The fundraising formula is ripe for modernization as new digital initiatives are popularized for differentiating campaigns during the holidays and beyond.
For the 2022 holiday season, St. Jude Children's Research Hospital launched a cozy, cheerful, donation-driven virtual experience through the Obsess virtual store platform. The St. Jude Winter Village proved to be an ideal illustration of how Obsess can power a virtual hub for mission-centric messaging and consumer-led donations.
Explore the intricacies of St. Jude's virtual winter wonderland, and see how the brand powered donation efforts by creating an accessible donor journey, discovery-driven navigation, and an immersive gift shopping experience.
Donation Through Exploration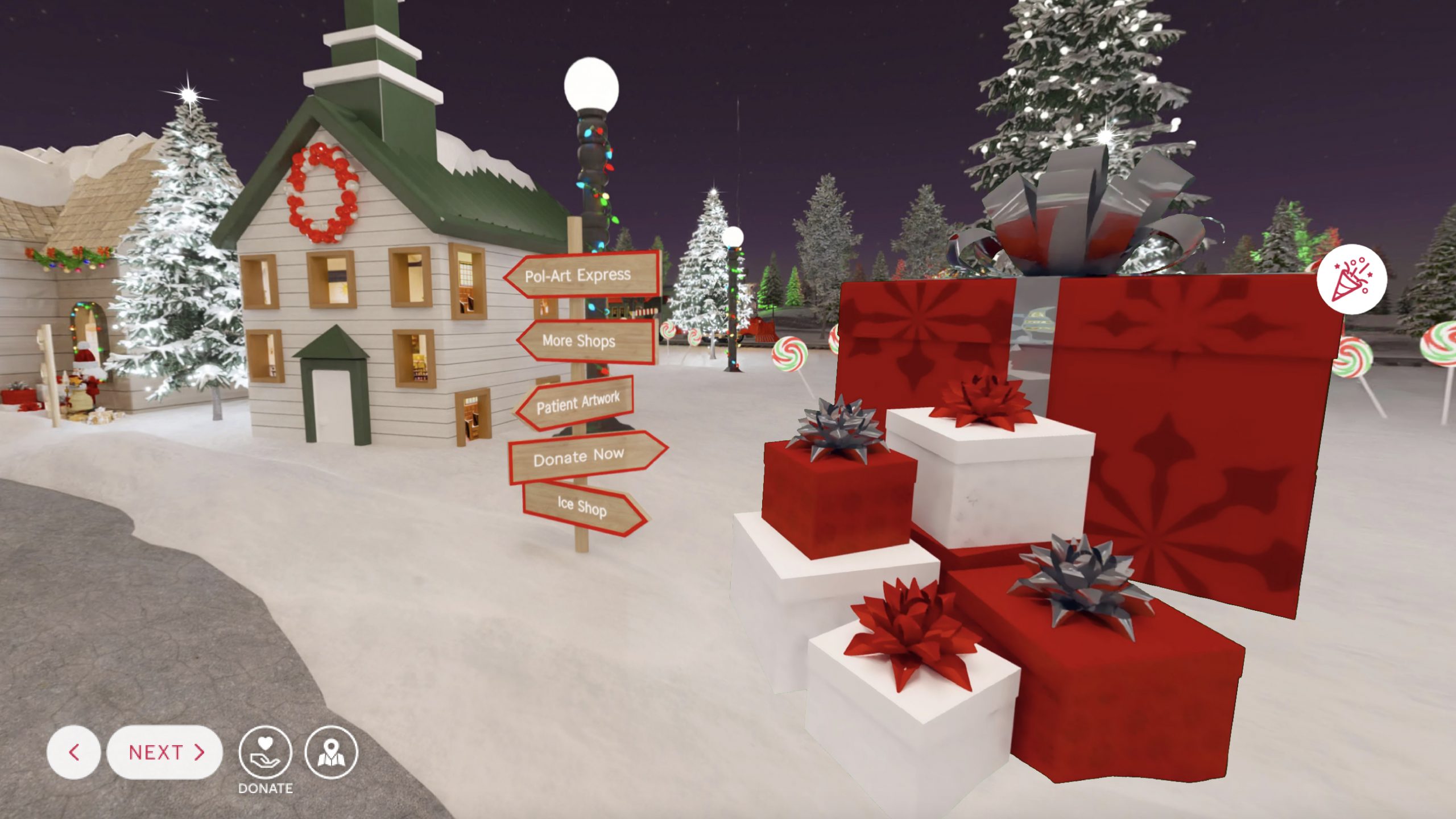 The St. Jude Winter Village allows visitors to virtually explore a cozy and festive 3D environment including the Ice Shop, the Ferris Wheel of Hope, and the Donation Station. Visitors can use the map to easily travel from one area of the experience to another. Similarly, users can follow the branded signs within the store for a guided, discovery-driven trek through the snow.
The Winter Village's map and signage both encourage exploration—ultimately leading to multiple calls to donate to St. Jude. Each call to donate is accompanied by immersive 3D visuals and powerful storytelling to illustrate the brand's mission.
The experience also makes it easy to donate thanks to the persistent donation button in the bottom navigation menu. No matter where a user travels within the virtual experience, they can always access the donation portal by clicking on the hand and heart icon.
Bringing Patient Stories to Life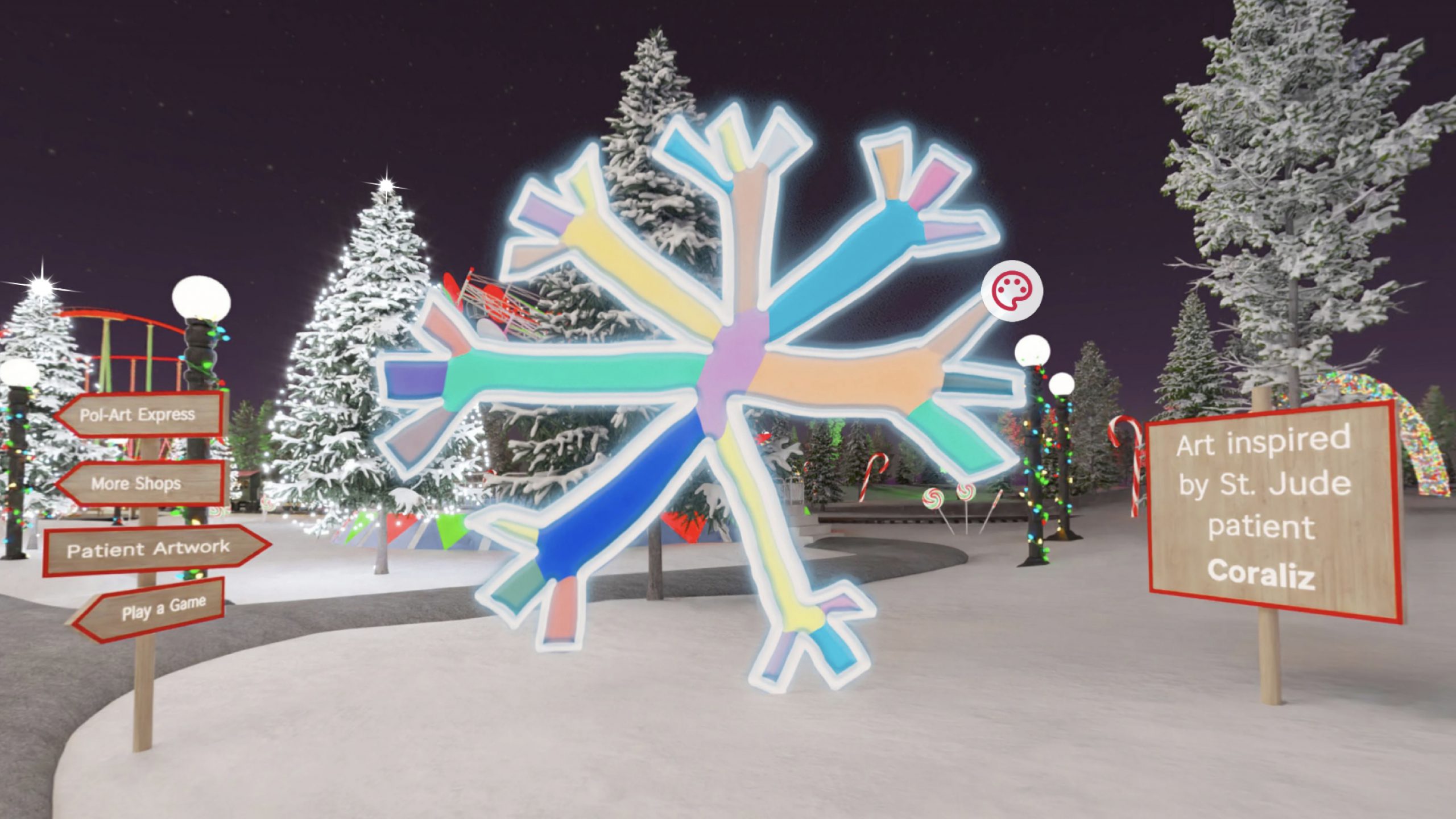 Placed throughout the virtual experience are several pieces of artwork from real St. Jude patients. Each piece of artwork is clickable and unveils the artist's unique story.
For example: when clicking on a giant, 3D replica of patient Coraliz's art, you unlock the story of her journey with osteosarcoma. The story reveals how St. Jude helped Coraliz overcome the disease, and eventually regain strength and mobility in her leg. A separate artwork spotlights the story of a patient with a rare form of eye cancer, who practiced art to occupy himself while recovering from a life-saving surgery provided by St. Jude.
After reading these inspiring stories and viewing each patient's artwork in virtual reality, users are prompted to donate art supplies or other gifts to children in the hospital. Adding context and content to the 3D visuals further immerses users in the stories of St. Jude patients, and makes brand interactions more purpose-driven and meaningful.
A Multilingual Experience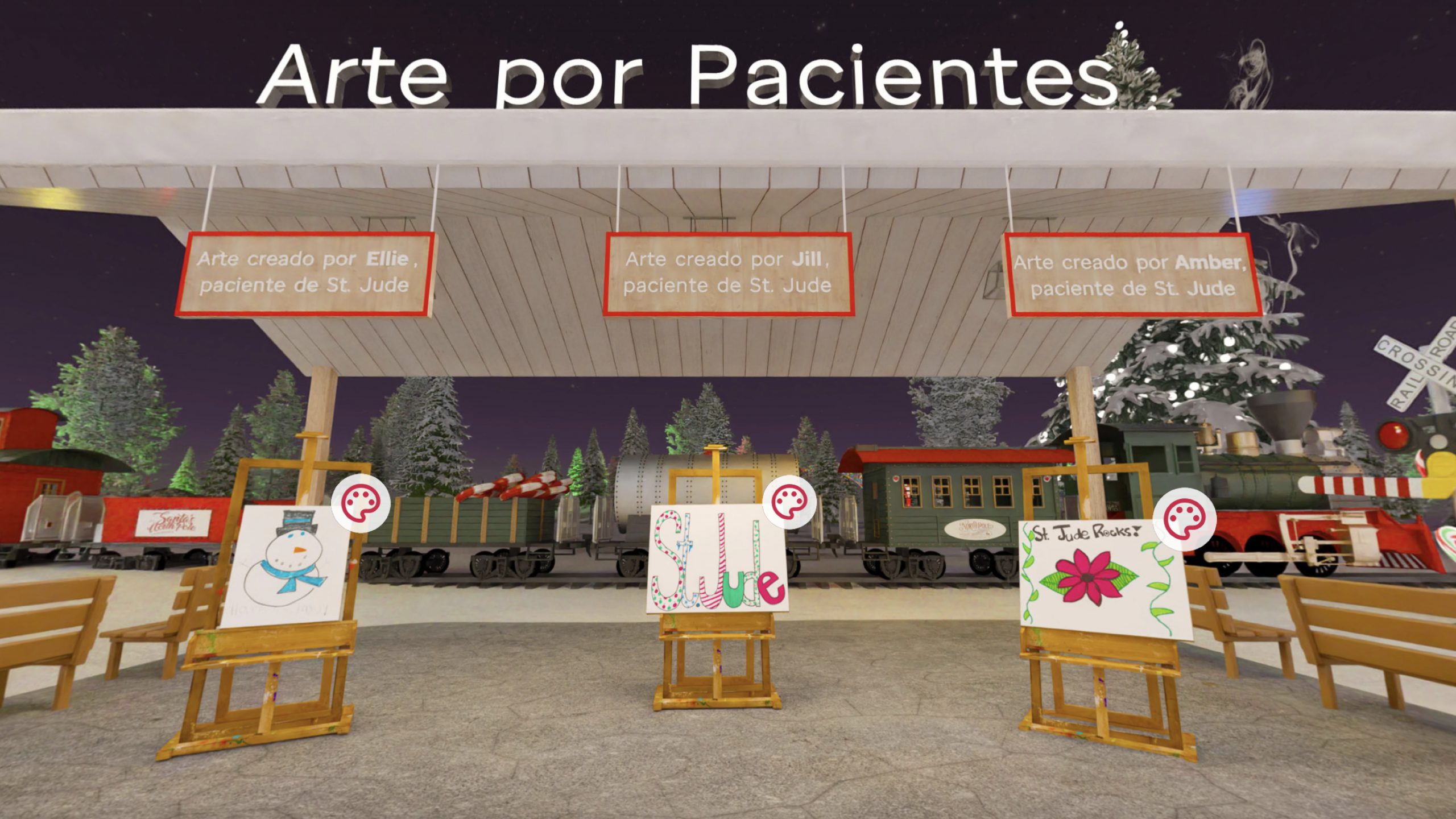 The St. Jude Winter Village was created through a lens of personalization for a diverse set of audiences.
The brand wanted to make the store accessible for multiple markets, beginning with both English and Spanish-speaking locales. The store's translation feature can be found in the upper right-hand corner of the virtual experience.
At any point, the Winter Village can be translated from English to Spanish, or vice-versa. All donation buttons and virtual signage in the 3D environment are readily available in both languages, enabling a larger population to understand and support the St. Jude mission.
Accessibility for All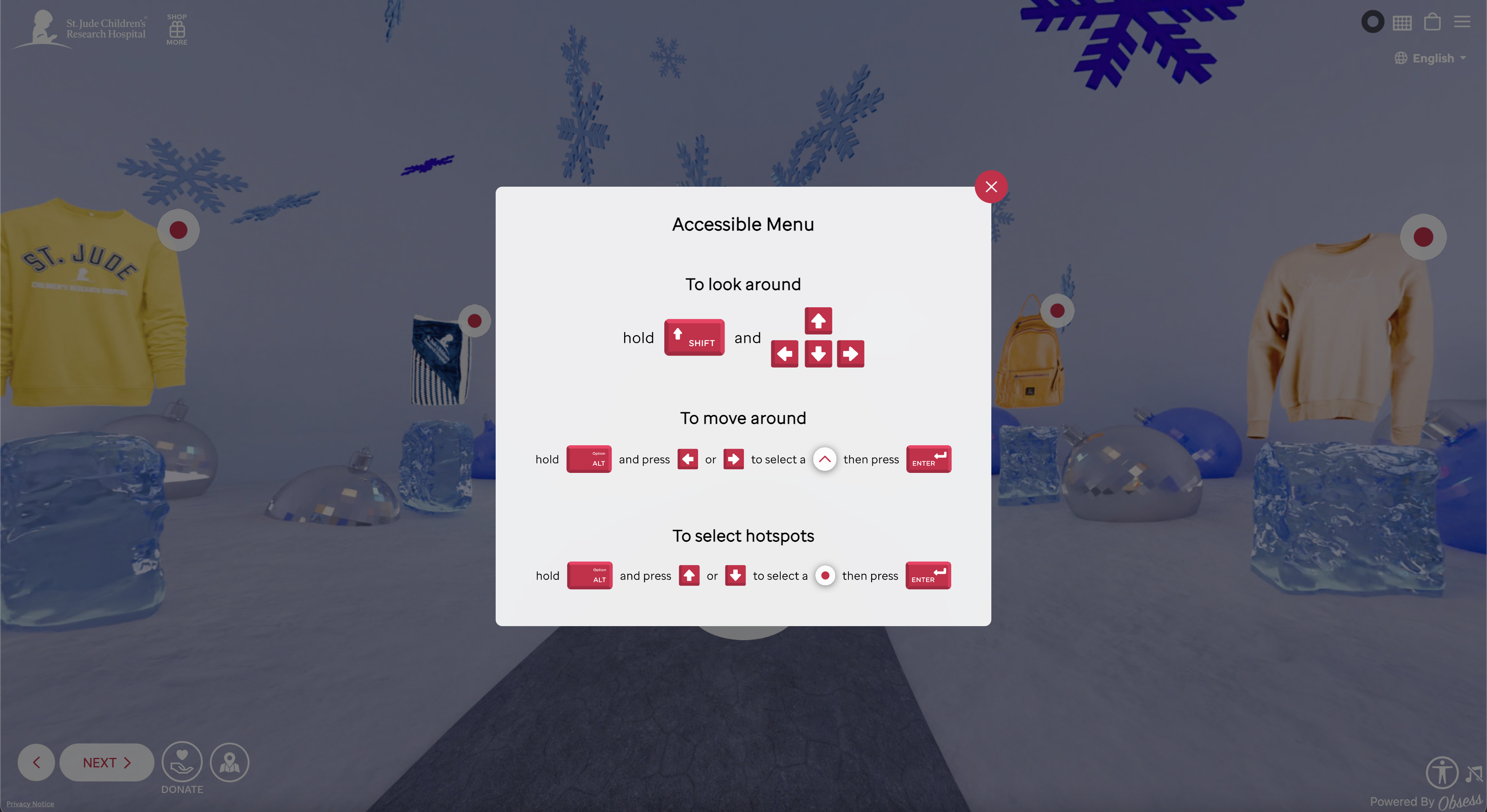 St. Jude ensured that their virtual store was easy to navigate for users of all abilities.
For instance: all donation buttons within the store are accompanied by descriptive text, which allows for users with screen readers to easily access the donation portal. Likewise, the full Winter Village experience can be accessed either via mouse click or keyboard on desktop.
By increasing accessibility and navigation options, St. Jude embraced inclusivity, and in turn—increased overall donations from their virtual store.
Gamification and Livestreaming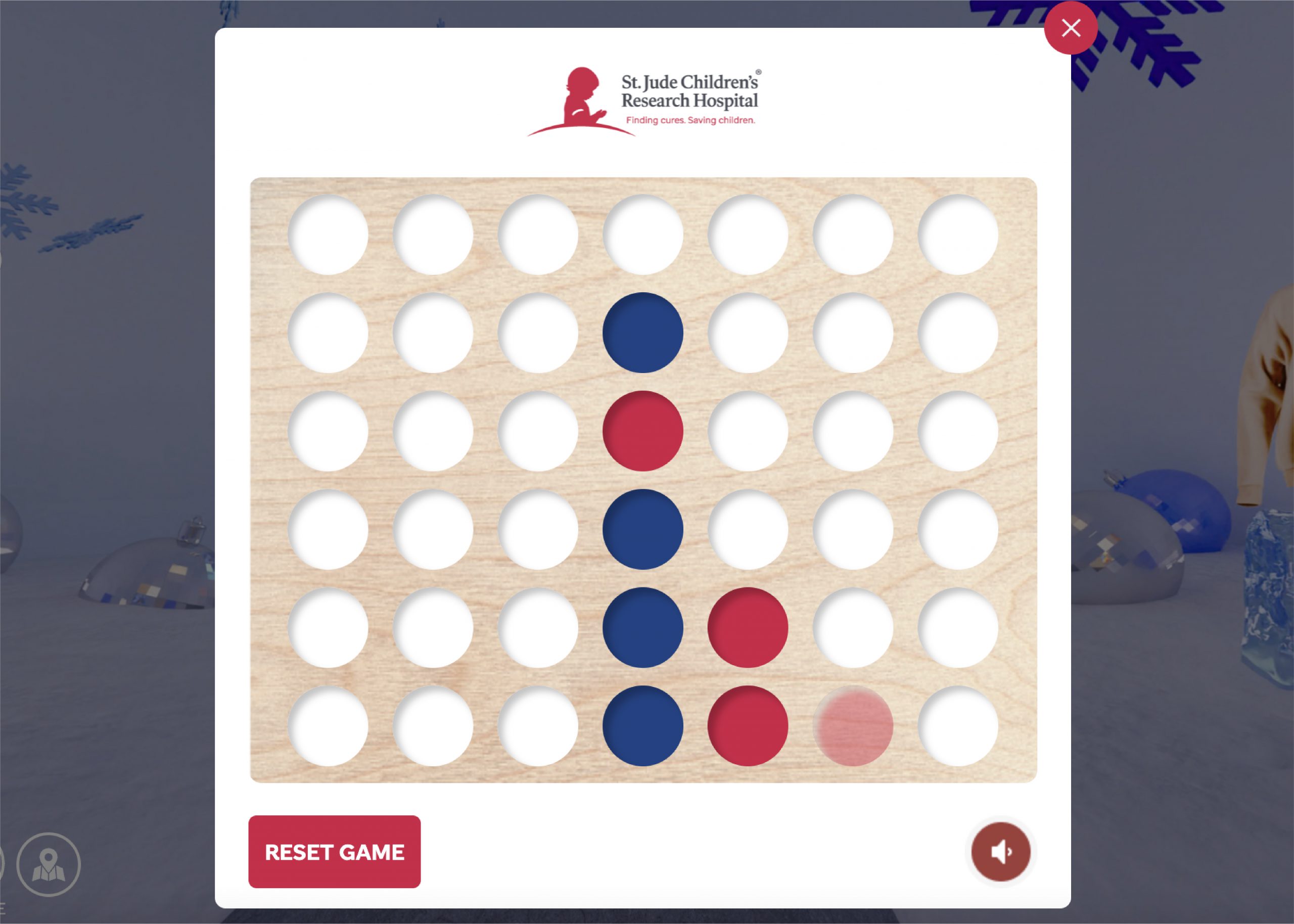 Immersive giving takes on a whole new meaning in the Winter Village, with the addition of AI-powered gaming and livestream shopping.
On Giving Tuesday 2022, five different St. Jude celebrity ambassadors hosted a live stream via video chat directly from the virtual experience. The livestream functioned to raise additional awareness and support for the hospital.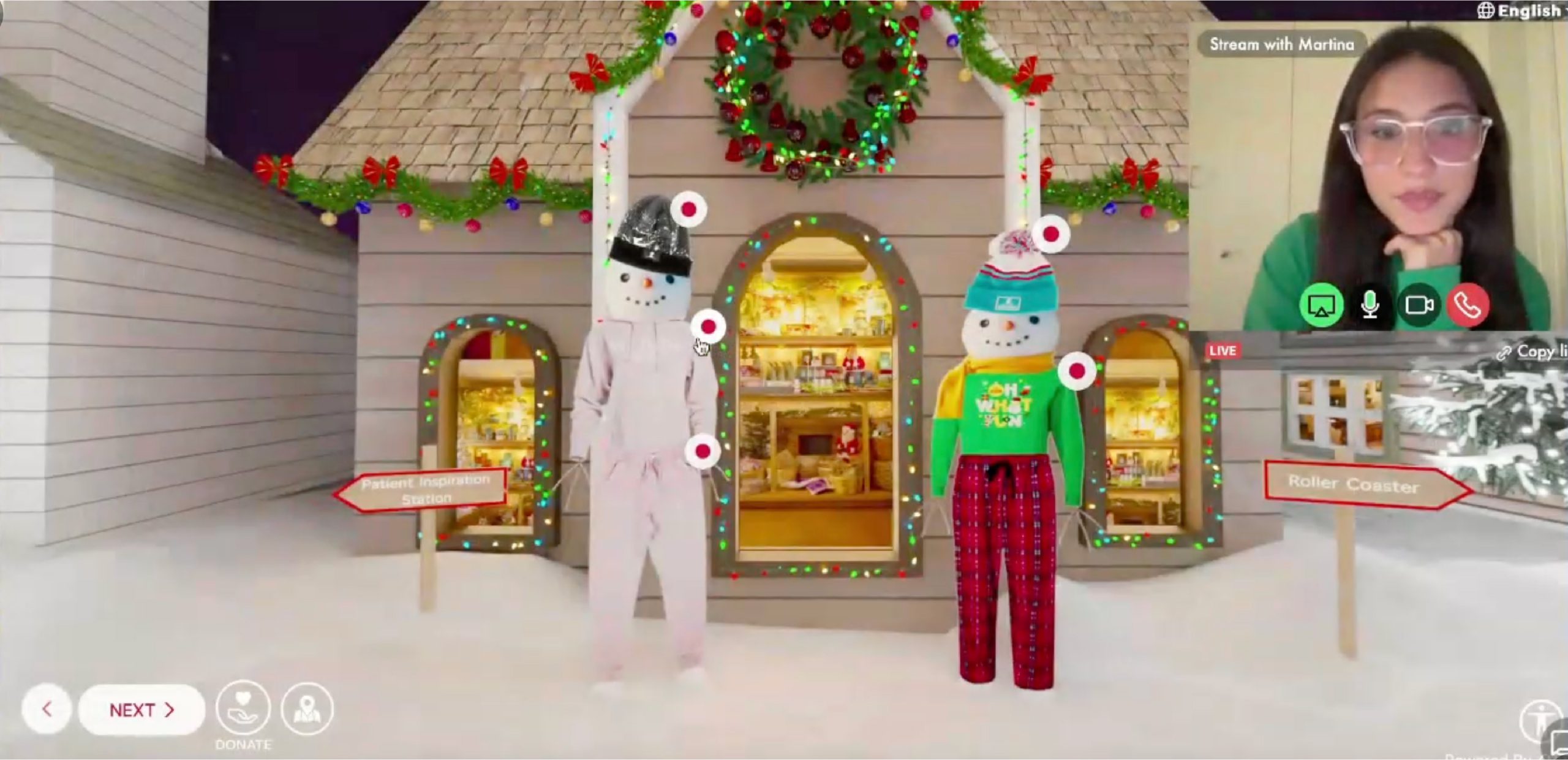 The general public was able to join these live sessions through a unique URL, which transported them directly into the virtual showcase. Users were able to listen to ambassadors in real-time, while simultaneously exploring the Winter Village. Live chat for Q&A with each celebrity was open throughout the duration of the livestream, enabling real-time interactions for up-leveled brand engagements.
The Winter Village also employs always-on gamification features for increased interactivity. The experience features a massive Connect 4 board that users can play to unlock shipping discounts.
Integrating E-commerce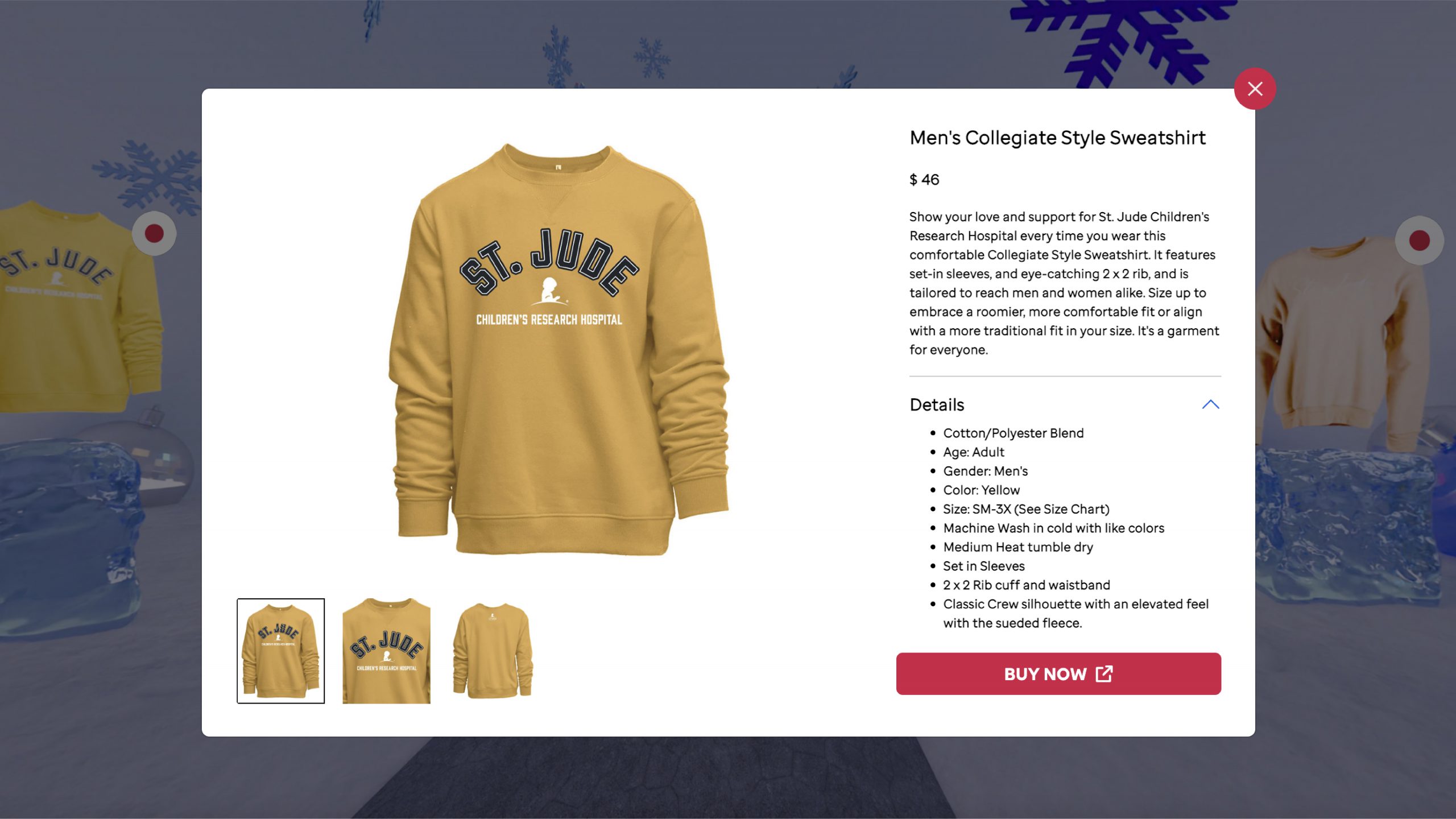 In addition to serving as a fundraising platform for direct donations, the virtual experience also functions as an extension of St. Jude's e-commerce experience—doubling down on its donation power. Users can purchase merchandise and memorabilia that ultimately benefit the children of the hospital, helping fund future treatments and research.
Just like the St. Jude e-commerce site, the gift shop within the Winter Village displays product details, sizing, and pricing for all of the brand's not-for-profit merchandise.
Amplifying Brand Mission through Virtual
By creating an immersive, discovery-driven, fantastical, and highly accessible experience—St. Jude was able to create an interactive destination for donations and brand engagements.
St. Jude's virtual store included a variety of features that any mission-based brand can add to their virtual campaign playbook. For instance, organizations taking a stance against climate change can leverage virtual storytelling and e-commerce integrations to build awareness for their cause and increase education on their sustainability efforts. The same is true for any other brand that wants to amplify its mission using the Obsess virtual store platform.
To learn more about how Obsess virtual stores can inspire more donations and bolster your brand's mission, contact our team at contact@obsessVR.com.
Citations
Longfield, C. (2018, February). Charitable Giving Report: How Fundraising Performed in 2017. Blackbaud Institute. www.institute.blackbaud.com