As consumer behaviors and expectations are evolving, the e-commerce interface is evolving too. A virtual store is a new type of digital shopping experience that provides a much higher level of engagement and immersion for the customer. At the simplest level, virtual stores are 3D, 360 full-page visual experiences that live on a brand's e-commerce site. Customers can navigate around the virtual store on their phones or computers, similar to how you would browse around a real-life store. Products are visually merchandised within a virtual store, and customers can 'pick up' a product as they move around.

Why are virtual stores needed?
The e-commerce interface has not evolved from the monotonous grid of thumbnails on a white background – created by Amazon 25 years ago to sell books. Most e-commerce sites emulate this database of products on a page that creates infinite scrolling for the consumer. The traditional online shopping interface presents every brand, product category, and collection in the same way.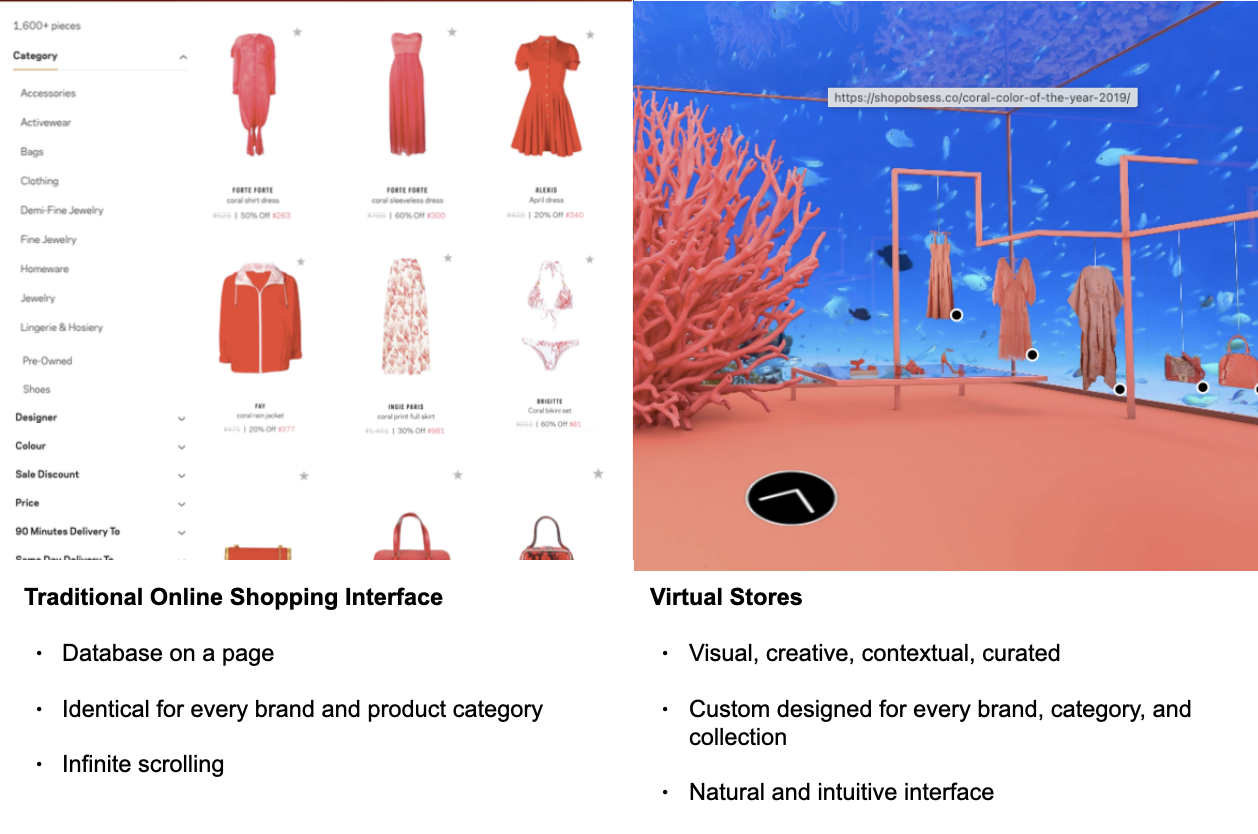 Virtual stores, on the other hand, offer an experiential online shopping experience that is visual, creative, contextual and curated. The graphical interface inspires consumers with an immersive, and discovery-driven brand experience online, instead of the dry grid. With a virtual store, custom design is possible for every brand, category, and collection. Contextual environments can be created that bring products to life by showcasing them in varied environments, enabling customers to visualize their usage. Virtual stores utilize CGI (Computer Generated Imagery) technology, similar to what is used for special effects in movies, but here in real-time for the purposes of shopping.
Virtual stores cater to a younger audience that is a valuable target for many brands. Millennial and Gen Z consumers are used to visual content, interactivity, and experiences that are at the core of gaming and social media platforms.
Ultimately, virtual stores present a more natural interface for digital shopping, as our real world and retail stores are 3D, making this an intuitive experience for any demographic. They are easy to access with a web link, and don't require an app download or wearing a Virtual Reality (VR) headset.
Virtual Stores and the Metaverse
As explained in the "The Metaverse is the New Mall", the metaverse is a connected, 3D virtual world where consumers, through their individual avatars, are able to interact in real time with the digital environment and everything and everyone in it. Virtual stores serve as the starting point for brands to enter the metaverse.
A recent AdAge article says, "Virtual stores can be an easy entry point for consumers who are not familiar with the metaverse, but are familiar with a brand. They are also a way to connect with younger consumers who are used to virtual technology." The article further explains the fast, growing trend "as tech giants like Facebook bet their future on the metaverse, and platforms like Snap emphasize augmented and virtual reality capabilities to help brands get virtual stores up and running."
Virtual stores are also valuable for providing analytical data and insights into consumer behavior. As noted in the AdAge article, for brands looking to better reach and understand their consumers in the wake of the demise of the third-party cookie, virtual stores can generate a plethora of data. Obsess for example, provides detailed, anonymized first party data on every consumer interaction that occurs within a brands' own virtual store.
"A brand can see how many people are visiting each section of the virtual store, how much time they are spending in each section, which products they are selecting and the items they are adding to their cart among other things." -AdAge
Today, brands and retailers globally are already using virtual stores on their websites for a variety of different purposes – creating unique and memorable experiences for their customers, and hence increasing engagement, sales and loyalty. See some examples below of virtual stores built using the Obsess Experiential E-commerce Platform™, that enables brands to create photorealistic 3D virtual stores with full e-commerce integration.
The Ralph Lauren Virtual Store Experience is offered to a global audience through a unique hybrid of a brick-and-mortar and online shopping experience. This new way to shop allows consumers to virtually step into the elegant world of Ralph Lauren's most iconic retail spaces around the world–in New York, Beverly Hills, Milan and Hong Kong–and shop the stores from the comfort of their own home. Read more about The RL Virtual Experience in this Forbes article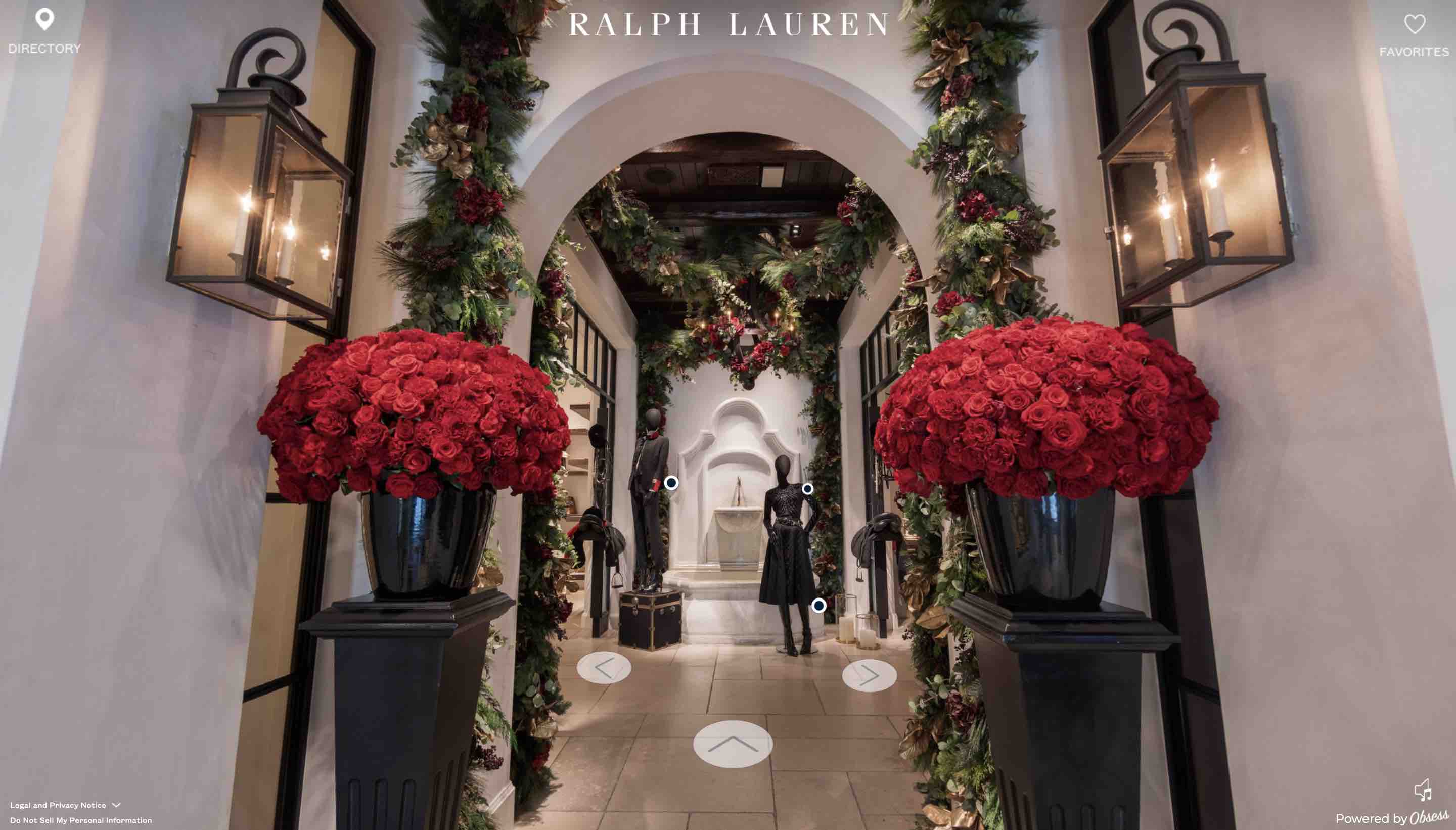 The Charlotte Tilbury virtual store is an immersive, three-dimensional shopping environment where customers are guided by a "Magic Charlotte" avatar to virtually duplicate an in-store visit from their own home. Within the virtual store, customers can explore, shop, receive personalized advice and product recommendations, join live events with Tilbury and special guests, and watch makeup and skincare tutorials. Read more about the Charlotte Tilbury experience here.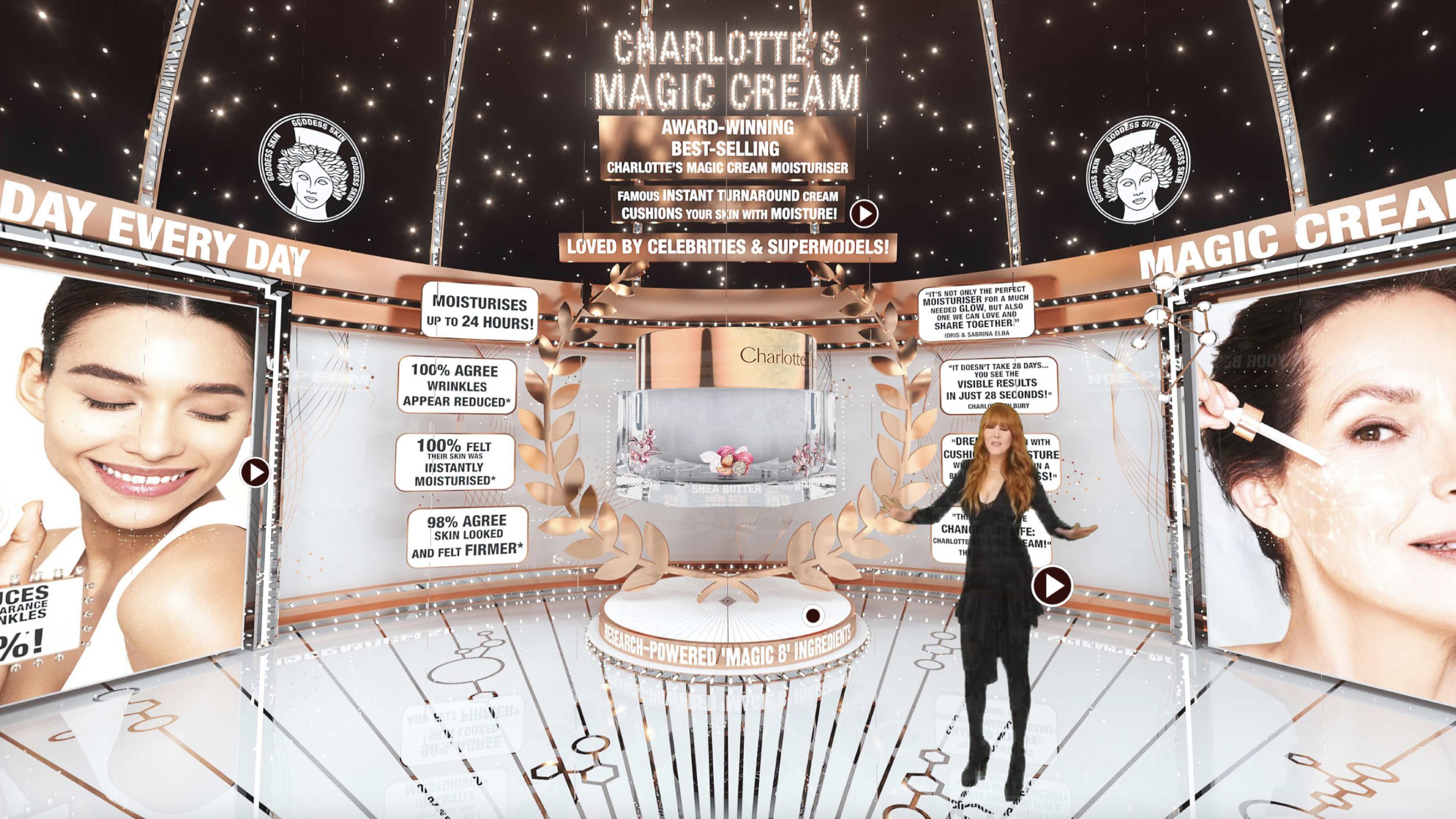 For American Girl, Obsess developed two virtual experiences — a digital version of the brand's famed Rockefeller Center flagship and a virtual museum that has no real-world equivalent. "Our ultimate goal is to create a completely different way for customers to engage with and shop American Girl online," said Stacy Carpenter, User Experience Senior Manager at American Girl in an interview with Retail TouchPoints. Read more about the American Girl virtual experiences here.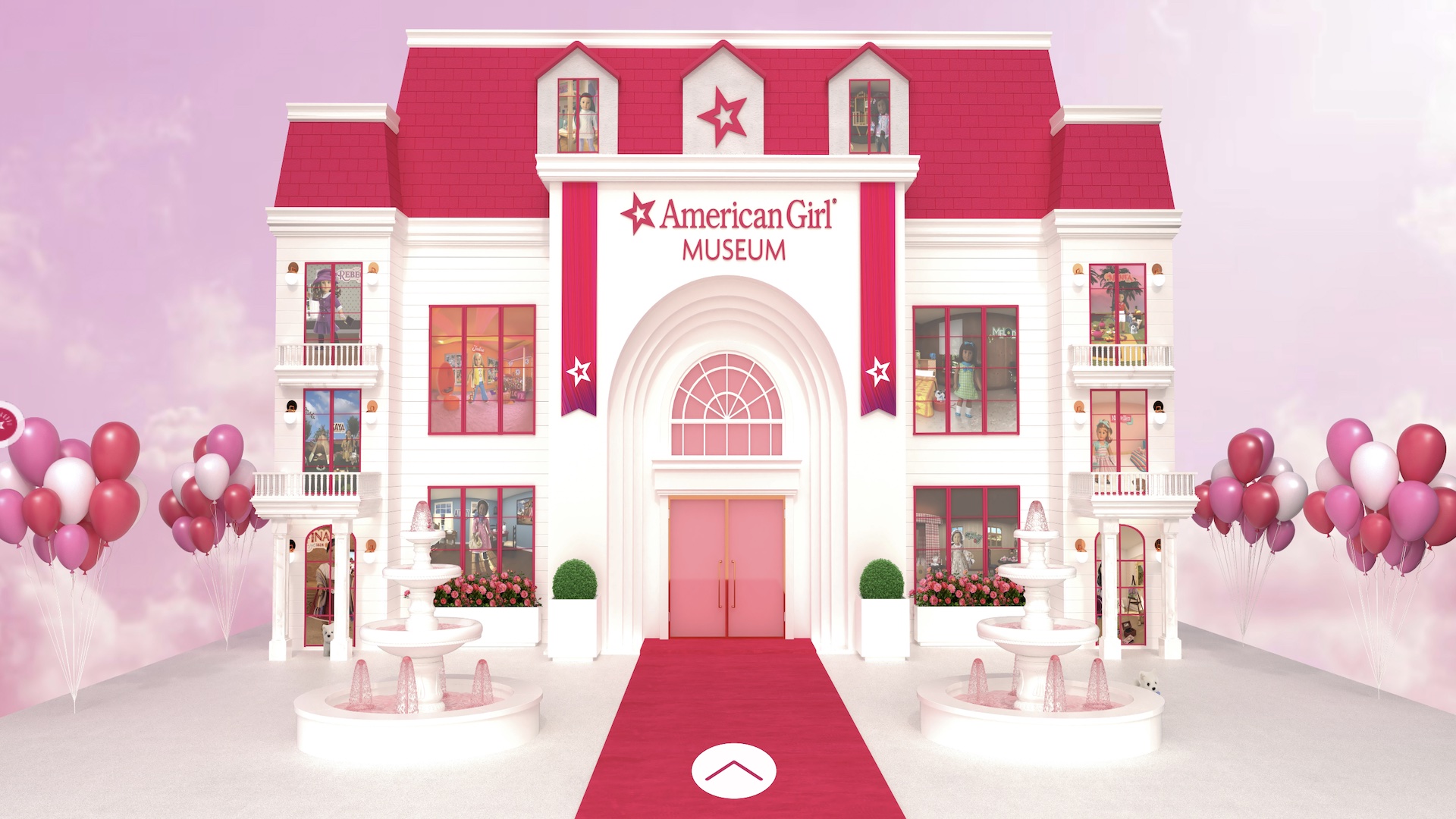 theSkimm's Virtual Holiday Village is a virtually created holiday market set in an outdoor winter wonderland resembling Bryant Park in NYC. The market inspires gifting in categories such as "Chic Steals," "Gadgets & Gizmos" and "Stocking Stuffers"– consumers can travel from cabin to cabin and tap shoppable products. Read more about theSkimm's Virtual Holiday Experience here.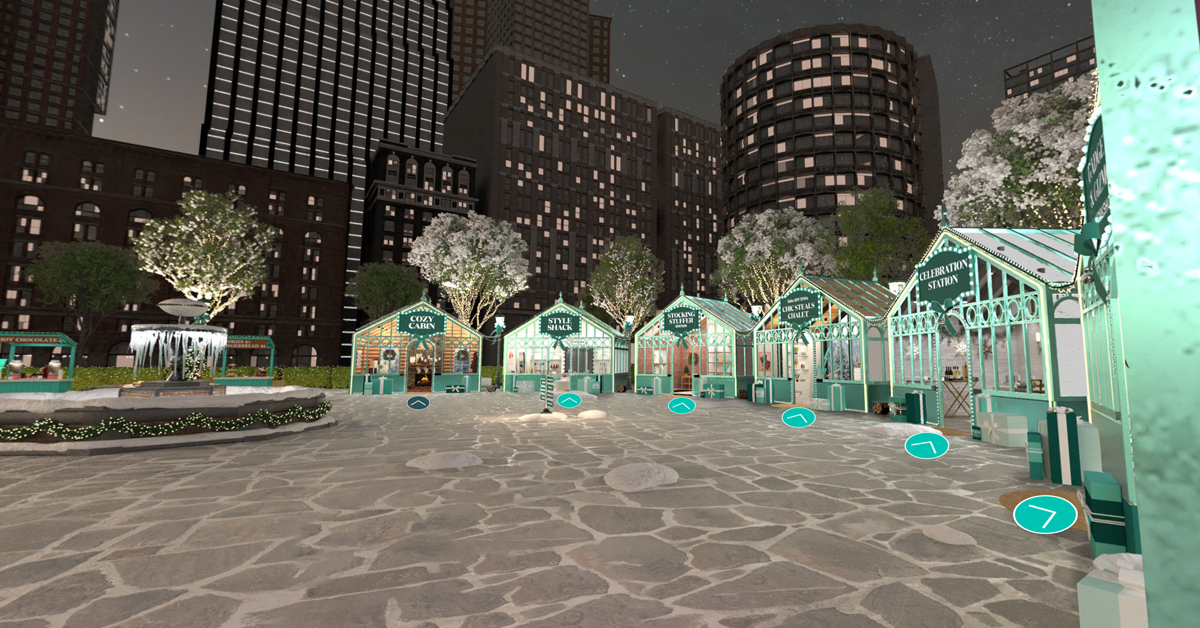 Learn more about how leading brands are leveraging virtual stores by clicking here.