The newest trend in e-commerce is virtual selling technology. Virtual stores are one of the many innovations that have come out of this new trend that brands are capitalizing on as a way to build unique engagement and differentiate their digital offerings. Virtual stores are 3D, 360 full-page visual experiences that live on a brand's e-commerce site and on metaverse platforms. These digital experiences allow consumers to browse an online e-commerce store in a more immersive and discovery-driven fashion. Virtual stores merge the best of online and offline shopping, allowing leading brands to enhance their brand engagement and extend their revenue potential.
The top 6 ways brands are using virtual stores include:
Digital showrooms for wholesale and merchandising
1.) Virtual Flagship Stores
The dot.com is the new flagship store. From setting up retail flagship stores, brands are now transitioning to opening virtual flagship stores. A virtual flagship store is a 3D digital destination for a brand, where you can explore the brand's world, learn about the brand story, discover the latest products, and shop for them. It is a permanent immersive virtual presence that becomes a go-to location for customers to visit and leaves a much more lasting and memorable impression than a flat e-commerce website.
Brands update their virtual flagship stores with the latest collections throughout the year and can change the merchandising and decorations seasonally. A brand's virtual flagship store can be available in all their markets and is localized to the local language, currency, and product assortment. Brands are seeing higher engagement, interaction rates, and conversion rates with their virtual flagships.
Key benefits of a virtual flagship store:
A highly customized, interactive, and fully branded virtual experience
Enables brands to showcase products in a discovery-driven format to consumers globally
Allows brands to update their products throughout the year and make their dot.com the new flagship store
Retailers can use the Obsess Experiential E-commerce Platform to create custom virtual flagship stores that are photorealistic and highly interactive.
NARS Cosmetics launched a virtual flagship store powered by Obsess that according to Beauty Magazine "answers the need for a new way to shop for cosmetics, and adapts the brick-and-mortar feel to the current retail landscape." In the virtual flagship, shoppers can book one-on-one artistry sessions, utilize virtual try-on technology, view artistry tutorials, and get matched using Matchmaker, an AR and AI-powered foundation shade finder. The virtual store windows and the visual merchandising was updated through the year and new collections were added.
Mary Kay Inc. has created its virtual flagship store named Suite 13. Once inside the pink door, this 3D environment leads consumers through a fun, easy-to-use escape from traditional online shopping. Users can discover global fan-favorite products, skincare collection features, and highlights of Mary Kay heritage in a trendy loft setting. "Suite 13 will provide Mary Kay Independent Beauty Consultants with the flexibility of a digital business by being able to introduce our Mary Kay brand everywhere at any time and to elevate the way they build relationships with their customers by sharing an immersive beauty experience," says Mary Kay Chief Marketing Officer Sheryl Adkins-Green. Customers can order their favorite products or connect with their Independent Beauty Consultant for a personalized tour.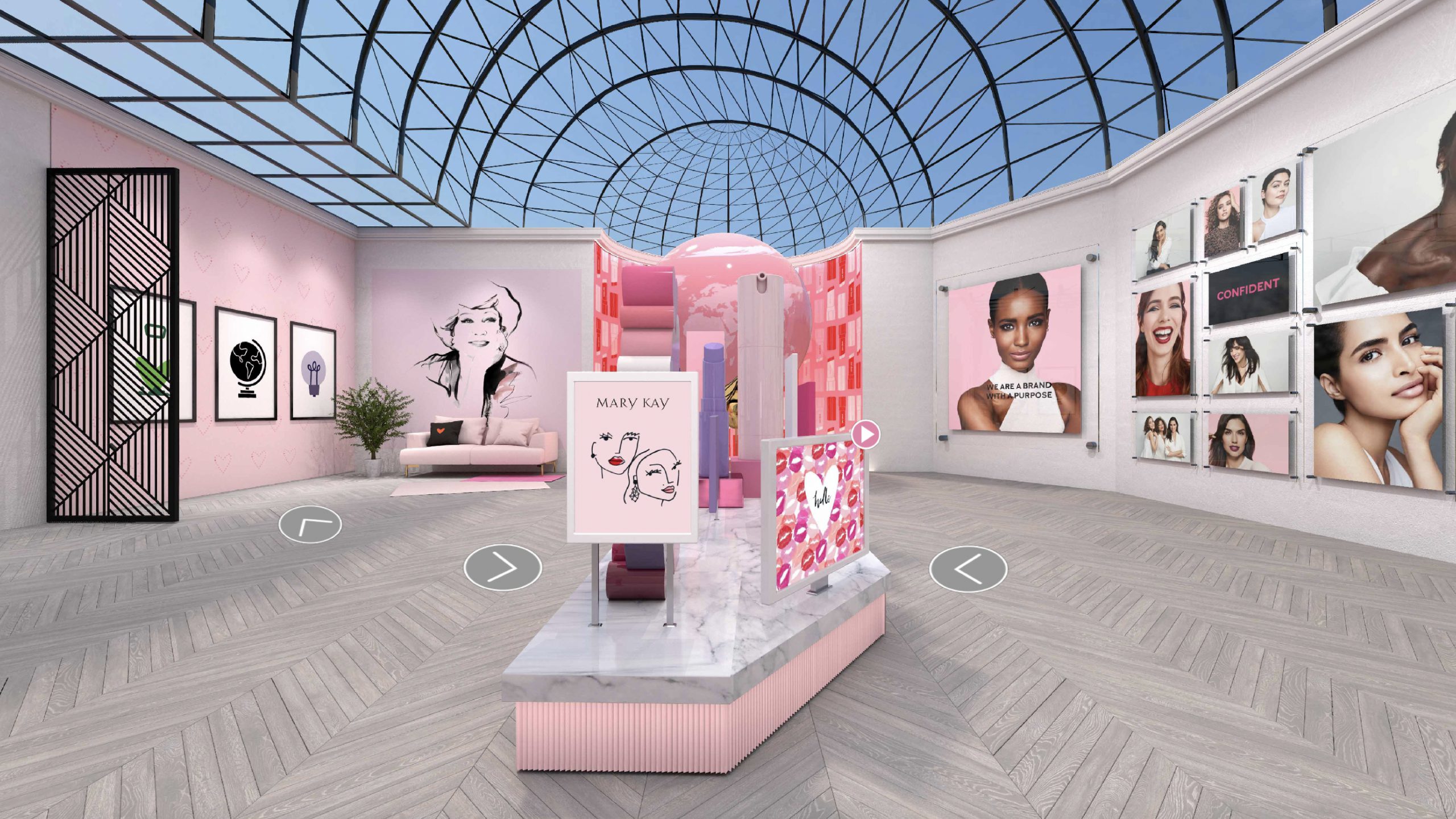 2.) Virtualizing Retail Stores
Brands are creating virtual versions of their retail stores for flagships, new store openings and more. Virtualizing a retail store means creating a photorealistic 3D virtual tour of it on your e-commerce website, that is fully shoppable. This increases the reach of the physical retail store to a much wider audience beyond those who can come there in person, hence increasing the ROI on the retail real estate investment. Virtualized retail stores can connect to both in-store and online inventory. They bring the full creative scope of the brand's visual merchandising into online shopping, turning e-commerce into an experience.
Benefits of virtualizing retail stores:
Store becomes accessible to a wider audience
Remote shopping enabled
Makes in-store inventory digitally accessible
Retailers can use the Obsess Experiential E-commerce Platform to virtualize their retail stores at a high resolution and with a fast turnaround time.
Ralph Lauren's series of virtualized retail stores is a relevant example of brands that have successfully transformed physical locations into 3D, immersive digital experiences. Ralph Lauren (RL) has virtual versions of their Bal Harbour store, The Watches & Fine Jewelry Showroom, The Accessories Showroom, and the Polo Factory Store in Gloucester. By visiting the Ralph Lauren website and by clicking on the "RL Virtual Experience" page, a visitor can virtually travel around the world with Ralph Lauren and be immersed in their renowned and unique flagship stores in various locations. Customers can click on any product in the virtual store and order it online or call the store. The "RL Virtual Experience" serves as a new sales channel in addition to Ralph Lauren's retail stores and e-commerce website.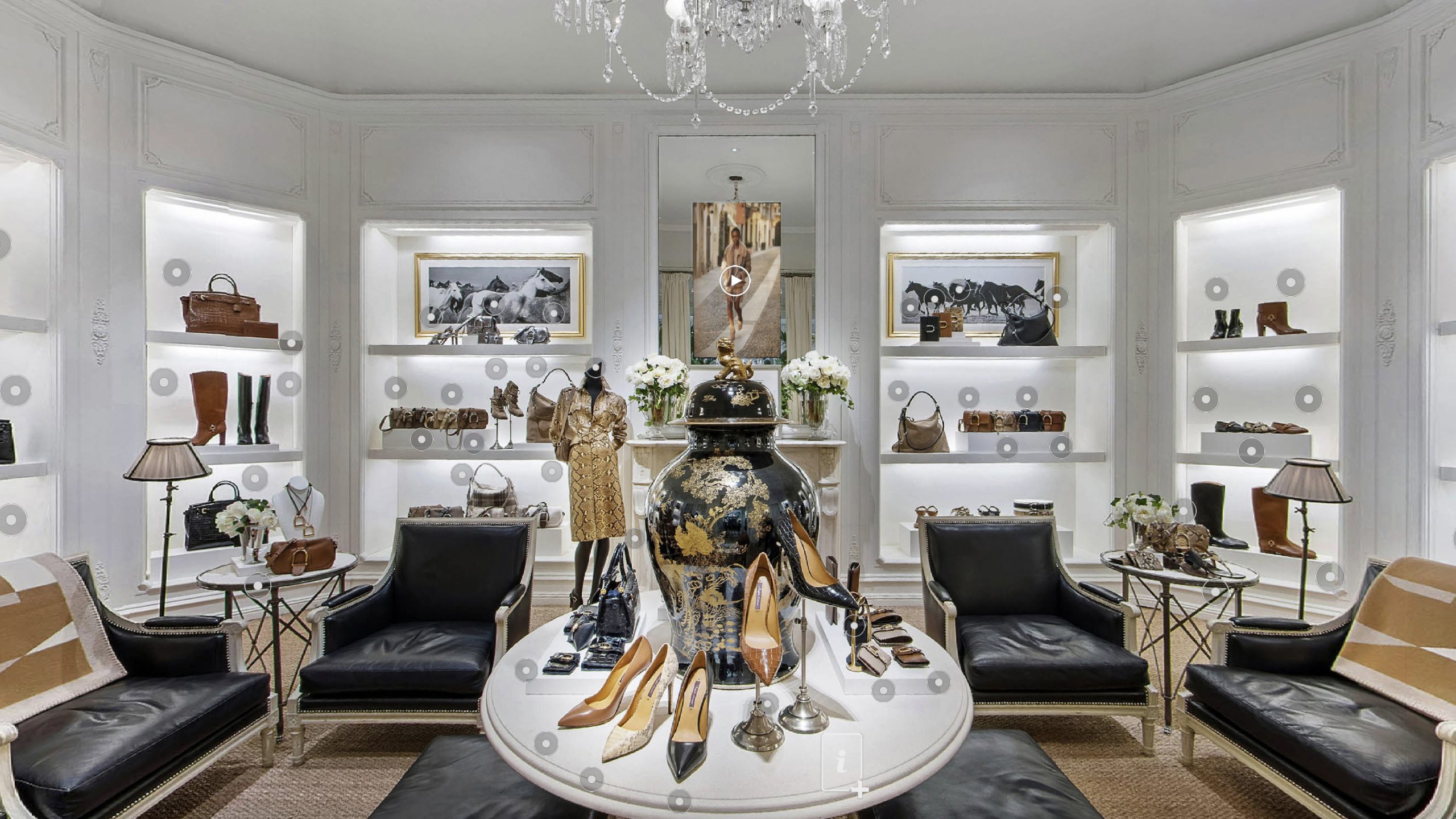 3.) Virtual Stores for Seasonal and Holiday Campaigns
Brands and retailers are continually searching for engaging, exciting, and entertaining campaigns to capitalize on seasonal and holiday sales pushes. A 3D-rendered virtual experience offers a new experiential shopping format and a viable new sales channel. With a virtual experience, you can create an environment that is a 3D model of your retail store, a creative concept store, or a completely fantastical location.
Key benefits of seasonal and holiday virtual experiences:
Gaining a new engaging virtual sales channel to drive sales pushes
Providing consumers with a creative, interactive, and discovery-driven shopping experience
Lower production costs with CGI than doing on-location shoots
Virtual stores can change seasonally without the reconstruction costs associated with a brick-and-mortar location. Seasonal experiences are often temporary spanning typically no more than three months. A digital space offers a quicker turnaround and lower maintenance and costs when it comes to either creating a purely seasonal experience from scratch or touching up a few elements to make it more holiday-like.
Tommy Hilfiger launched a holiday virtual store for the winter season. Upon entering the 3D immersive space, the user navigates through a holiday setting with candy canes, presents, and shining stars. There are a handful of interactive experiences to enhance user engagement such as the "All of Our Favorite Scents" where the user can click on a scent and receive instructions for creating a Tommy DIY Diffuser. The "Tommy Hilfiger Hot Chocolate Bar" experience gives recipes for a Caramel Spice, CoolHaus' Dirty Mint Hot Chocolate, or Fatty Sundays Mint Hot Chocolate. The "Get All Wrapped Up" section is an educational experience where users can watch a short video on sustainable gift wrapping with activist GreenGirlLeah. The Tommy Hilfiger virtual store offers consumers holiday cheer through a highly engaging and interactive virtual sales channel.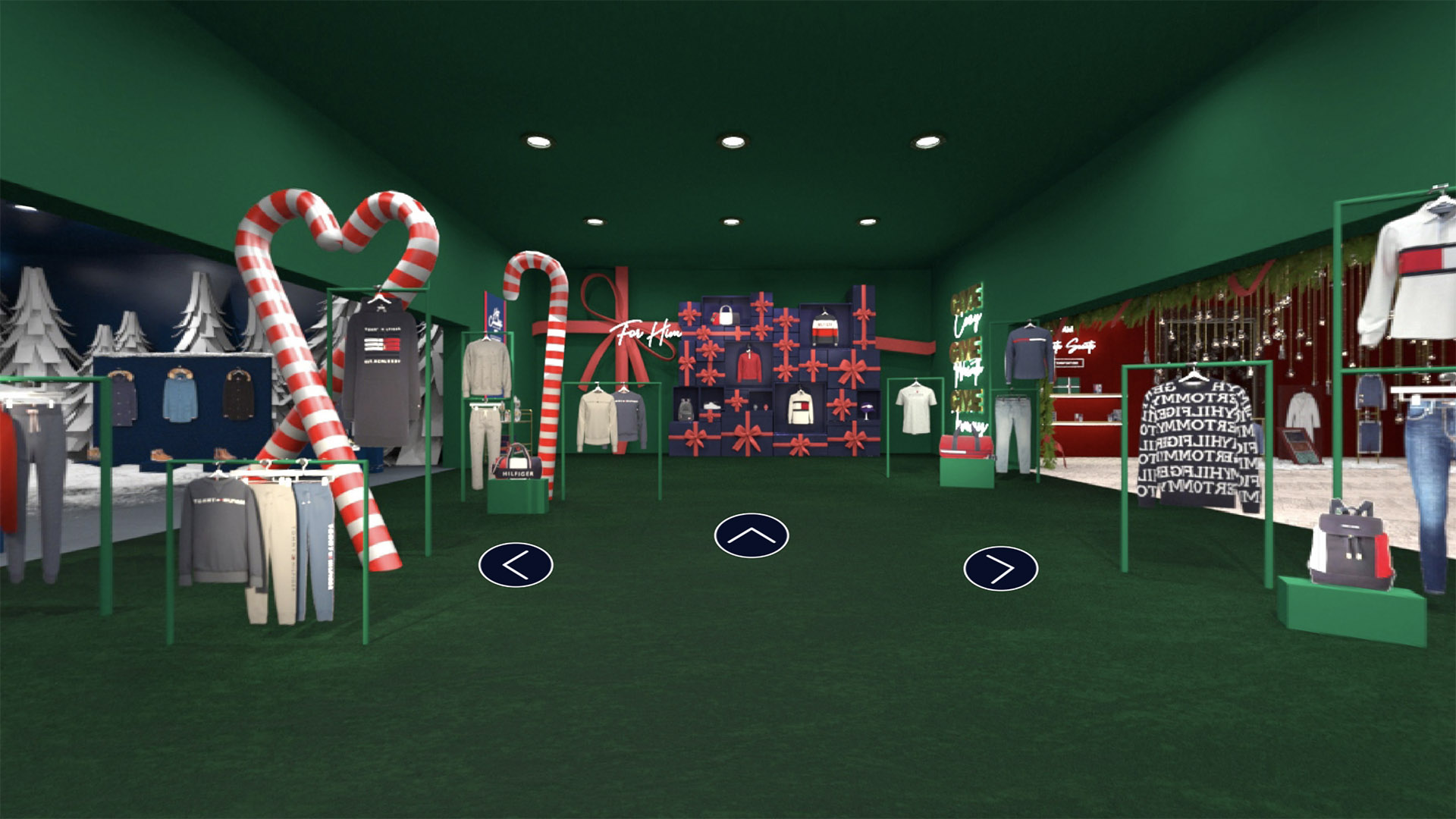 4.) Introducing New Product Launches and Collections
Brands are leveraging virtual stores to showcase new product launches and collections in an innovative way and to enter the metaverse. Virtual stores offer brands the opportunity to have a completely unique, branded, visual digital experience to immerse consumers in their brand world while leaving a lasting impression. The highly interactive and contextual environments of virtual stores help consumers envision how they would personally use the product.
Key benefits of virtual experiences for new product launches:
Create innovative, engaging experiences to immerse consumers in new products and collections
Provide consumers with 3D product interactions to enable custom actions to better understand the product
Facilitate virtual social shopping experiences with the Obsess Shop with Friends feature, which allows video streaming with up to 10 friends
Charlotte Tilbury's "Pillow Talk Party" virtual experience powered by Obsess unveils the latest products in the Pillow Talk collection. The social experience invites customers to shop with their friends and watch live masterclasses together. Upon entering the Virtual Wonderland, users can join live shopping excursions with their friends and receive a complimentary 15-minute virtual consultation to create a "Pillow Talk Party" look. The experience offers immersive 3D product interactions where users can unbox products, open them, and perform custom actions such as twisting a lipstick or refilling a reusable bottle. Visitors are welcomed into a boudoir with makeup tutorials for (directly shoppable) base, cheek, and lip products. The "gem game" lets users collect points for every tutorial video they watch and unlock free products.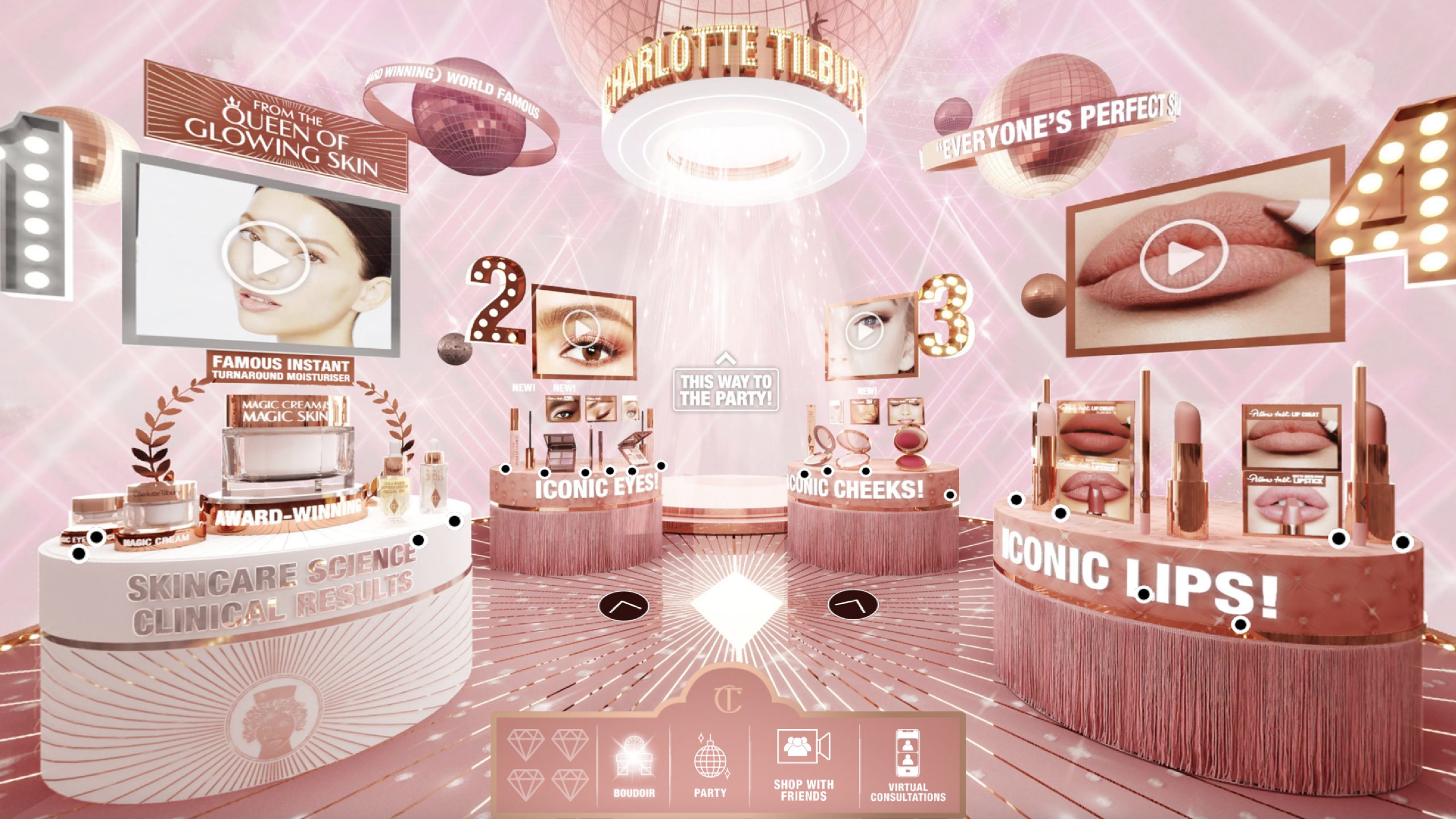 5.) Virtual Pop-Up Stores
Pop-up stores have been a hugely successful retail strategy and revenue driver for brands. However, they can only drive a finite amount of sales depending on the time span of operation and foot traffic in the area. Virtual stores are a solution to the restrictive nature of pop-ups as they maximize the potential of a pop-up store, making it accessible and shoppable from anywhere at any time.
Key benefits of a virtual version of a pop-up store:
Significantly widens the audience for the pop-up store
Virtual versions can stay open longer than physical versions, driving sellthrough
Provides deeper insight into consumers' interests and interactions with key data
A relevant example of this is the multi-brand retailer MyTheresa creating an immersive, 3D pop-up shopping experience for Moncler. When a user enters the virtual experience they are immersed in sky-high rocky mountains covered with moss and soaring clouds, a location that is as cinematic as the collection itself. The virtual reality experience is set in North Tyrol, a northern Austrian state in the Alps that's renowned for its ski resorts and historic locations.
6.) Digital Showrooms for Wholesale and Merchandising
Many companies are now using virtual stores internally as educational tools and resources for their merchandising teams and virtual showrooms for their buyers. Virtual stores can educate merchandising teams on the layout of collections in retail stores. Virtual showrooms allow for both a detailed and bird's eye view of the collection for wholesale buyers without having to physically visit showrooms, hence reducing the carbon footprint and speeding up the buying process.
Key benefits of virtual showrooms for wholesale and merchandising:
Serves as a virtual educational tool and resource for merchandising teams, buyers, and vendors
Enables buyers and vendors to see new products and collections virtually, reducing the carbon footprint and speeding up the buying process
Minimizes the number of samples created to go on display in showrooms, allowing brands to further their sustainability initiatives
Virtual showrooms can be leveraged as an experiential e-commerce tool to facilitate orders with buyers. Obsess digital showrooms are highly interactive and engaging experiences for buyers replete with garments and accessories rendered in a 360-degree space, video fits of each style, and detailed 2D images with product descriptions. In the digital showrooms, high-quality rendered images replace the touch and feel of physical products. Brands can significantly reduce the number of samples created to go on display in their showrooms, as well as minimize the need to travel to view new collections.
To learn more about how your brand can leverage Obsess for these use cases, write to us at contact@obsessVR.com.