Pop-up stores have been a hugely successful retail strategy and revenue driver for brands. However, they can only drive a finite amount of sales dependent on the time span and foot traffic in the area. Virtual stores are a solution to the restrictive nature of pop-ups as they maximize the potential of a pop-up store, making it accessible and shoppable from anywhere at any time.
Key benefits of a virtual version of a pop-up store:
Significantly widens audience for the pop-up store
A Virtual version can stay open longer than a physical version, driving sell-through
Provides deeper insight into consumers' interests and interactions with key data
A relevant example of this is the multi-retailer MyTheresa created an immersive, 3D shopping experience for Moncler. When a user enters the virtual experience he or she is immersed in sky-high rocky mountains covered with moss and soaring clouds, a location that is as cinematic as the collection itself. The virtual reality experience is set in North Tyrol, a northern Austrian state in the Alps that's renowned for its ski resorts and historic locations.
Situated in the sprawling Alps is a 3D-rendered, photorealistic image of Austria's Timmelsjoch museum, which houses Moncler's collection as well as information on the history and culture of the area. Symbolic of the ethos behind outerwear innovator Moncler, it's a future-facing design that also complements the natural world that surrounds it. The virtual experience has a pop-up that educates the user on Moncler's origin story and shares the brand's evolution story.
Activewear brand Terez created a virtual version of their pop-up store in Soho New York using the Obsess Experiential E-commerce Platform™. The virtual pop-up brought the Terez website to life with the vibrant colorful décor of the store. With Shopify integration, customers could shop products directly from the virtual store. In-store activations were also digitized in interactive ways in the virtual version – such as the clicking on the leaves of the positivity tree brings up different positive affirmations.
Tommy Hilfiger created a virtual pop-up for an influencer collaboration with Zendaya. With their first experiential pop-up store in NYC, the shoppable virtual tour highlighted the 70s-themed zodiac-inspired prints and made all products digitally shoppable. Activations like tarot card readings and horoscopes were added as content engagement interactions.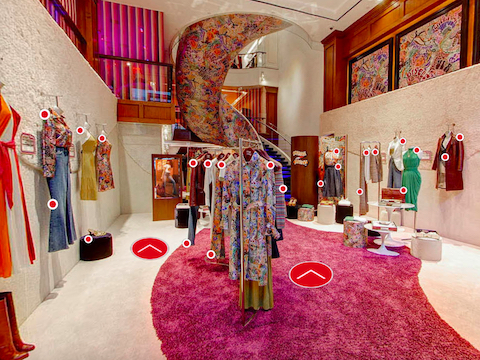 Digitizing a pop-up store into a virtual store can serve as a valuable sales tool that also provides insightful data about prospective customers. To find out more information on how you can virtualize your pop-up store, click on this link.