Virtual stores serve as a new commerce channel for your brand. And as with any new selling channel, more promotion leads to more awareness—which is why it's so important to promote your virtual store as part of your regular marketing mix. Based on data from 150+ virtual stores, we've compiled a list of the top marketing channels to promote your virtual store in order to increase traffic and drive up ROI.
Generally, visual channels outperform text-based channels when it comes to virtual store promotion. Visual channels provide an opportunity to insert a video or an image of a store and set user expectations from the onset. Between social media, press, email marketing, offline marketing, and more—there are a number of visual marketing channels that Obsess customers have used to market their virtual stores.
1. Social Media
Social media is a great platform to introduce new users to your virtual store. There is a lot of potential to reach new and existing shoppers, as content is constantly created and shared. With so many different platforms, brands have plenty of creative freedom to decide how to promote their stores—from organic Posts and Stories, to Paid Ads and Influencers.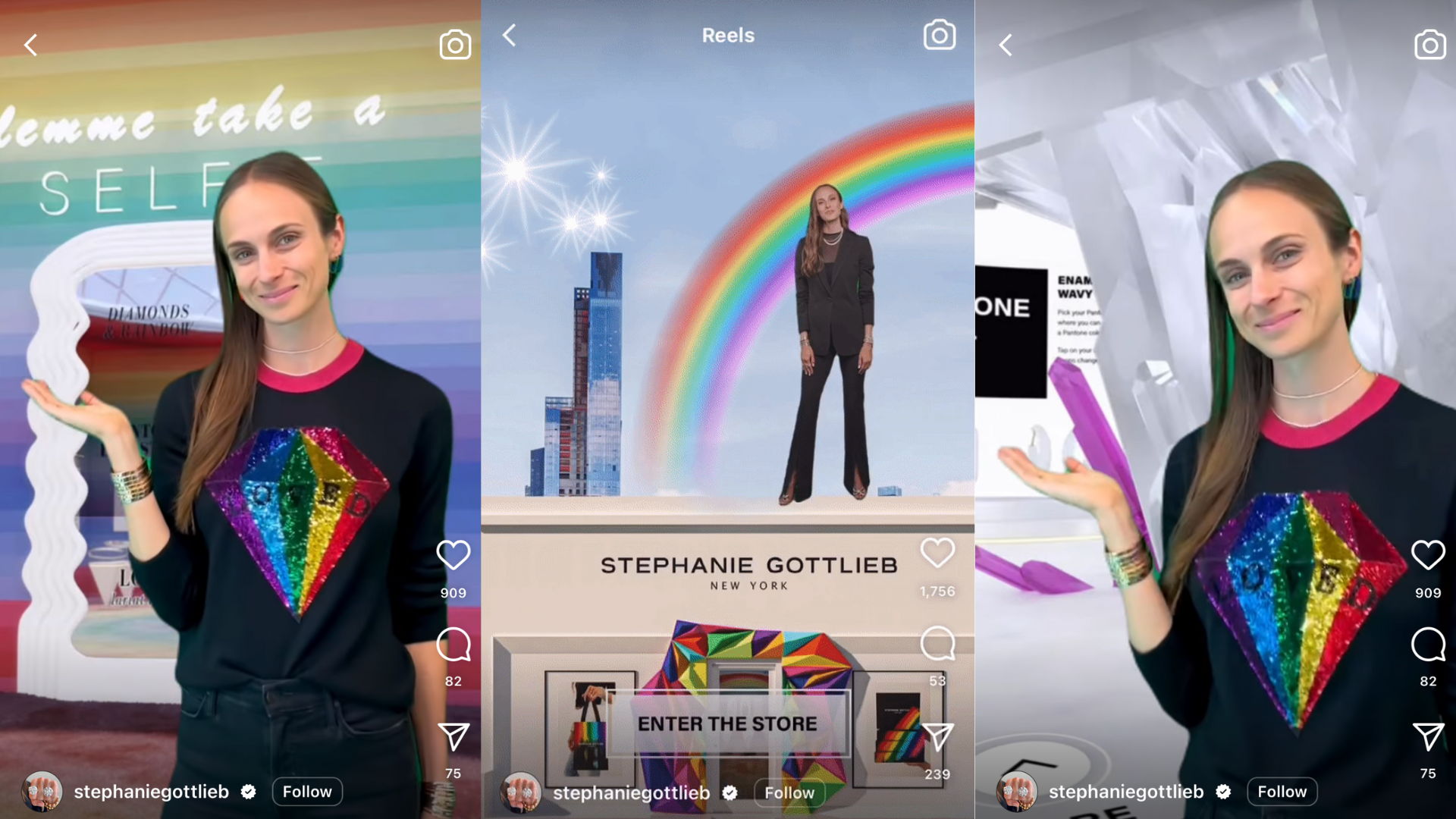 Obsess partner Stephanie Gottlieb used Instagram Reels to promote her Gem Palace virtual store, driving awareness at mass scale. She continuously engaged her impressive IG following via Stories and Reels—providing intel into new games, special promotional codes, and guaranteed early sale access.
In her Reels, she used the Instagram Green Screen feature—which allowed her to input photos and videos of her brand's virtual store into her social background. While Stephanie included a series of images that emulated the look and feel of her virtual store, other brands have opted to provide their viewers with a tour of the full virtual experience using the Green Screen feature.
Disney Music Group was another brand that utilized the Green Screen feature, with posts featuring content creators that walked viewers through a video demo of their virtual experience. The brand housed all of their virtual experience posts on their Disney Music Emporium social account, which linked out to their experience directly from their account bio.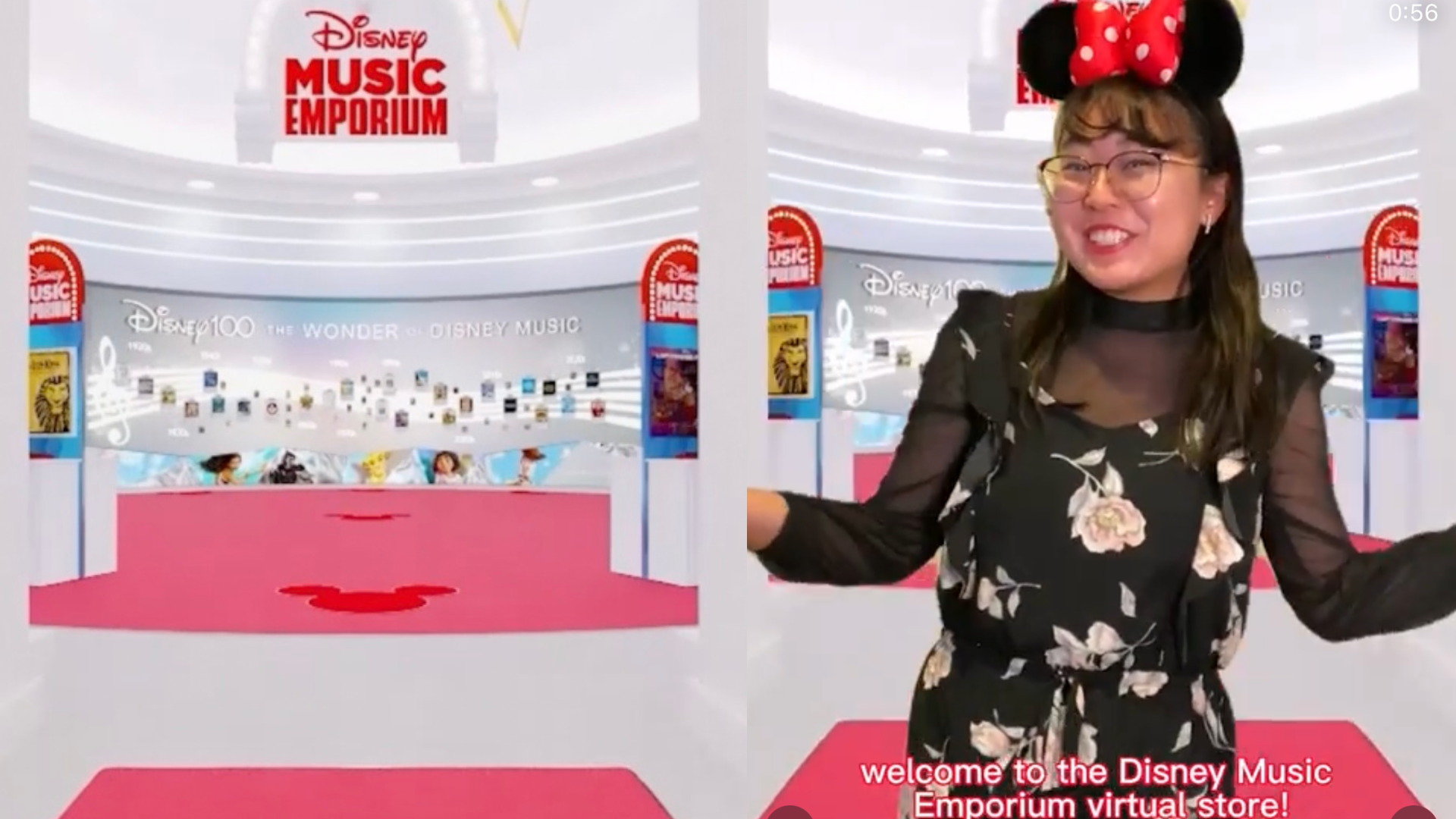 Social content creators allow for credible commentary and opinions on store usability, feature functionalities, and detailed in-store highlights that others can refer to before entering the store.
2. E-Commerce Site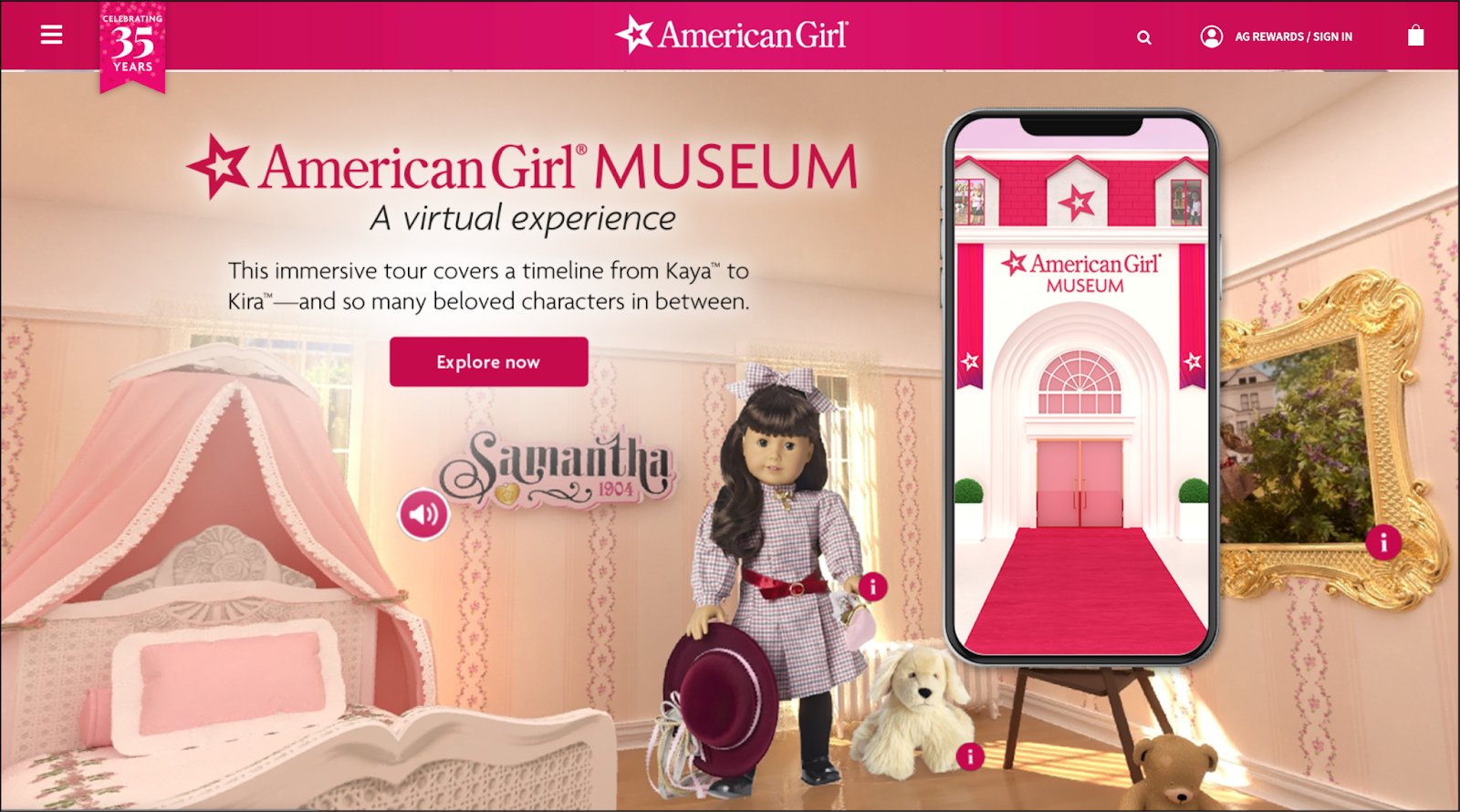 Promote your virtual store on a platform your customers already visit with the intent to buy or browse: your existing e-commerce site.
From a dedicated landing page to promotional banners that span the length of your site, there are many different ways to utilize your e-commerce site to promote your virtual store.
Using an auto-play video or a GIF on your website homepage will catch your audiences' eyes and entice them to enter your virtual store. These visuals also help to shape your shoppers' expectations of a virtual store and give them a better sense of how and why to navigate the space.
You can also promote your virtual store in your site's navigation bar for easy consumer access. On the American Girl website, the brand lists their virtual store alongside their physical store locations—so shoppers can easily find virtual experiences when searching for boutiques. Even when consumers are not physically close to a retail store, the AG virtual store is always readily available.
3. Email Marketing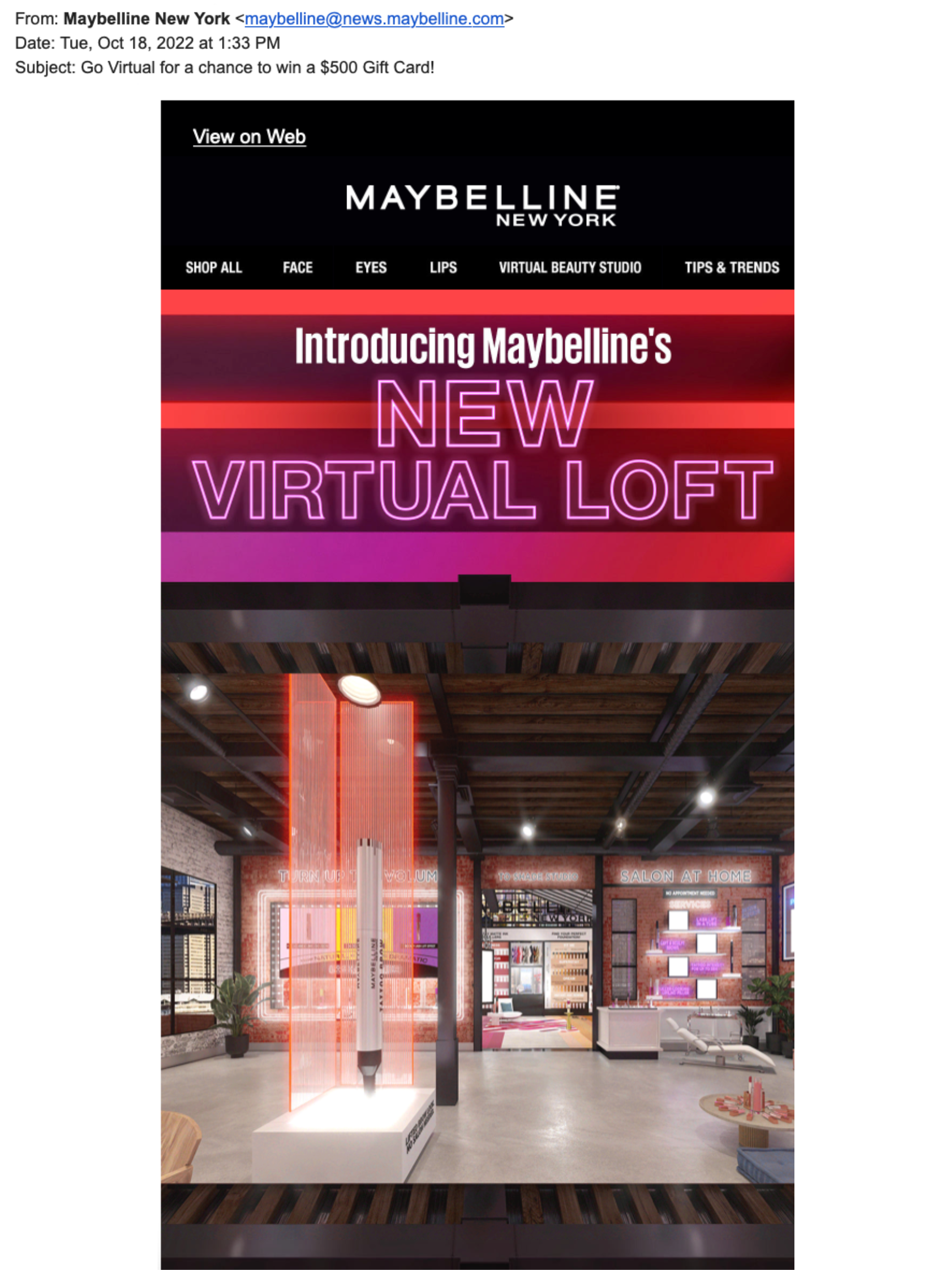 Email marketing tends to perform well for virtual stores because the target audience is already familiar with your brand and they are more likely to be loyal shoppers—making it easier to convince them to engage with new content on a new channel.
Many Obsess customers send dedicated email blasts about their virtual stores—typically around store and new feature launches. Some brands also include always-on promotional callouts for their virtual stores in their regularly scheduled emails.
Maybelline sent their mailing list an email dedicated to the virtual experience, complete with GIFs that showed the interior of the store, and links to specific rooms within the store. In the banner section, they strategically placed a GIF of the store's entrance and highlighted the game directly below.
Emails are a great way to engage your most dedicated audience, showcase your virtual store through imagery and video, and guide potential customers to the experience. Email marketing can also increase the longevity of your virtual store by reinforcing messaging to revisit different sections of the store.
4. In-Store Promotions
One of the best assets to promote your virtual presence? Your IRL retail locations.
As part of their virtual store marketing strategy, Ralph Lauren used physical stores to help drive digital traffic. With brick-and-mortar stores in prime shopping locations such as SoHo in New York City, Ralph Lauren was able to use their existing IRL footprint to capture online shoppers.
Ralph Lauren included a QR code on their retail displays, which led to the virtual twin versions of their retail stores. The QR codes allowed Ralph Lauren to retarget customers through virtual after they left the IRL experiences—prolonging customer communications and relationship management.
5. Offline Marketing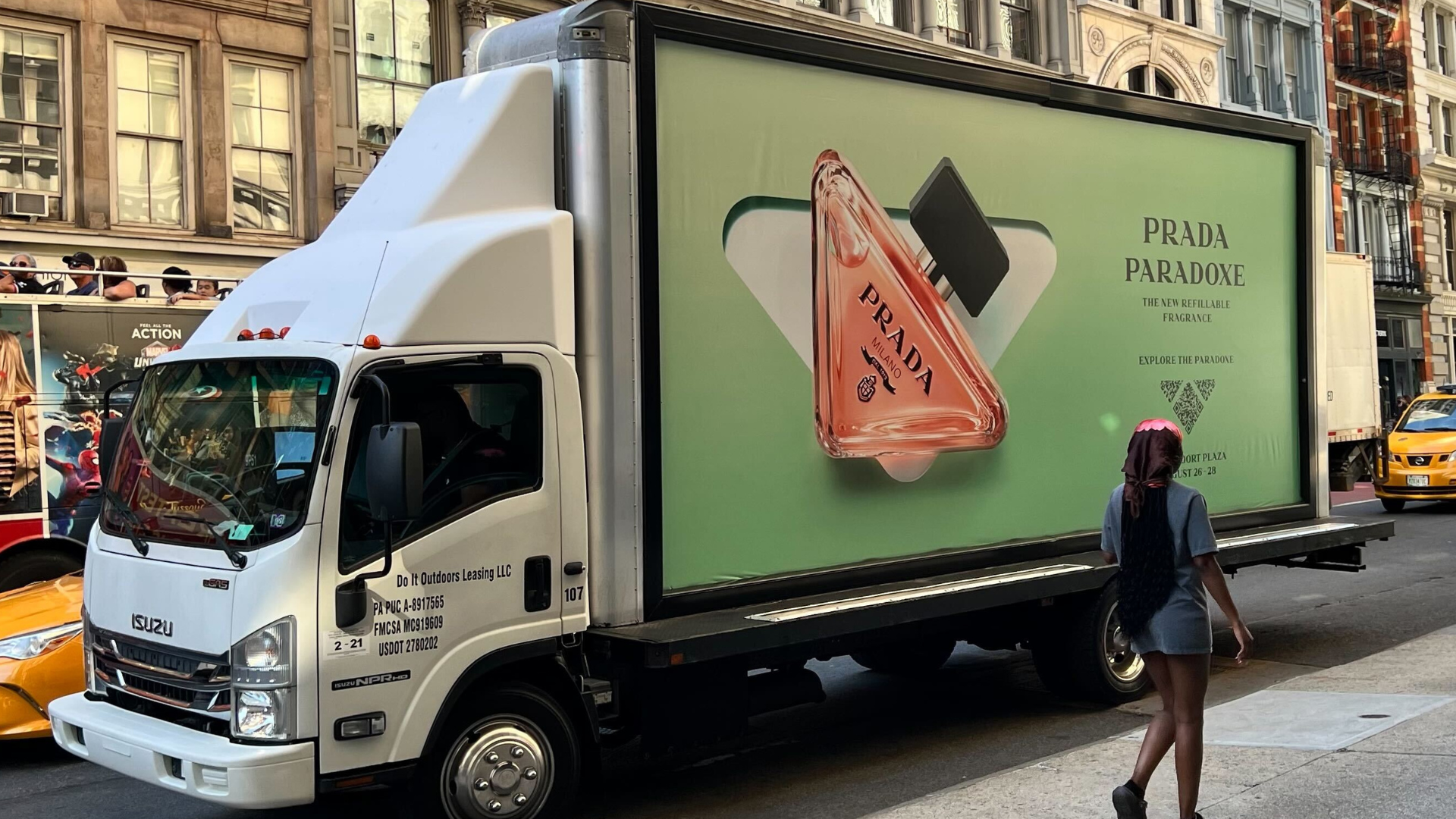 Offline marketing can drive buzz at scale for virtual stores.
Prada Beauty expanded beyond digital with the addition of billboards to their virtual store marketing stack. The billboards were a way for the brand to generate mass awareness and interest around the virtual store and products.
From IRL to URL, potential customers could find billboards and posters plastered around the world—each containing a QR code that led shoppers to the Prada Beauty virtual experience.
Ralph Lauren also opted to include some offline channels in their virtual store marketing mix, such as print ads, to raise awareness around their various virtual stores. The ad introduced readers to the virtual experience through vivid imagery of the interiors of each store.
6. Press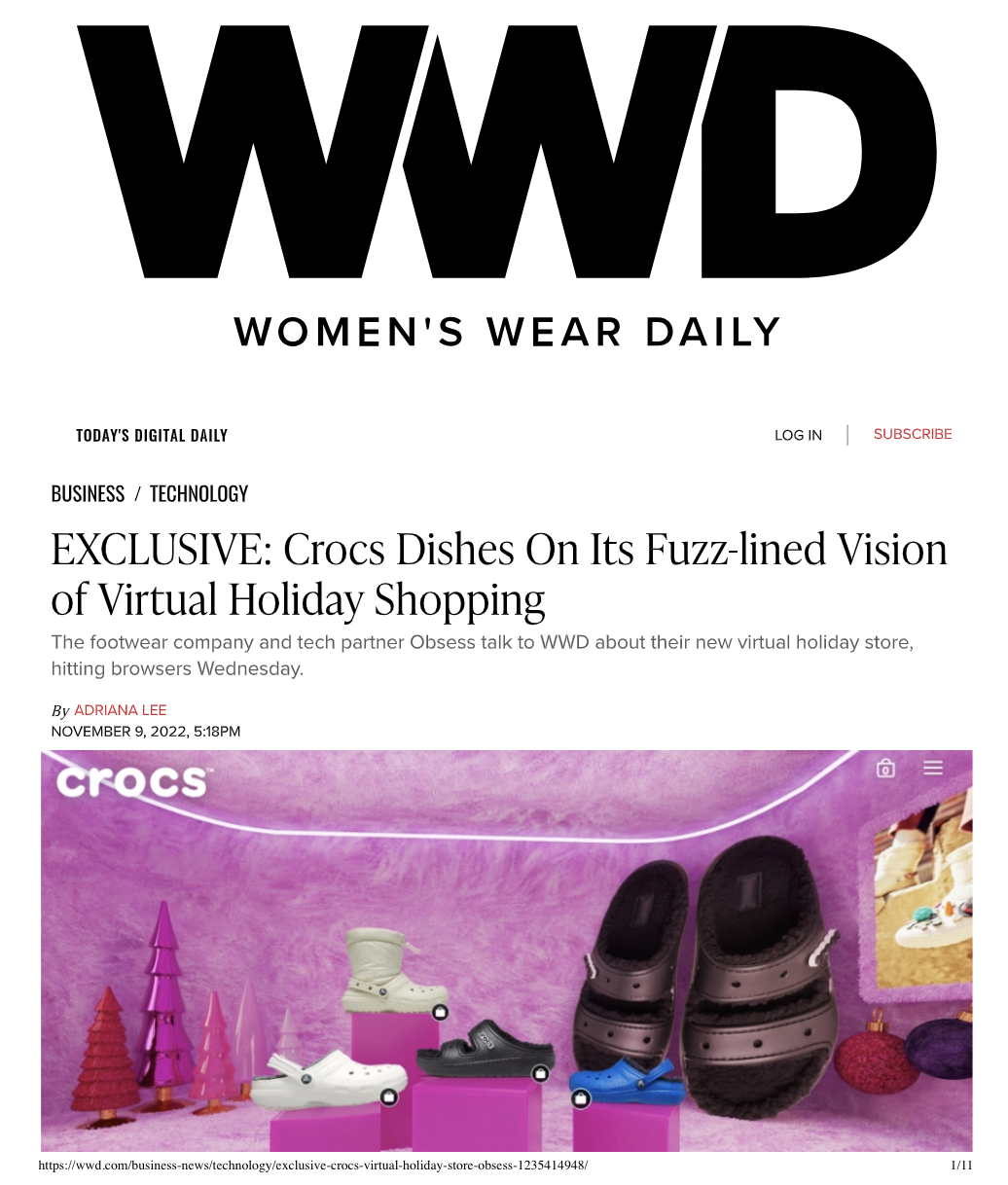 Many brands use press as a way to market their virtual stores. Press is used to generate interest surrounding an initial store launch, or launches of new products and features. Press articles efficiently summarize the benefits and core features of a virtual store—plus, they serve as a backlink to improve SEO. Quality backlinks can increase virtual store ranks on search engines by building credibility.
For example, when WWD covered Crocs' holiday store launch, Crocs effectively introduced their virtual store to WWD's reader base while increasing their own online credibility and authority with a reputable backlink.
The more regularly you promote your virtual store, the more familiar your potential customers will be with the concept. There are many ways to take advantage of marketing to raise awareness around your virtual store, set user expectations, and increase traffic. It's critical to test a variety of channels, and then optimize toward the channels that your audience responds to best.
Our advice to you: test and learn, show lots of visuals, and take advantage of storytelling to set the tone of your virtual store.
If you're interested in learning more about raising awareness and improving the traffic of your virtual store, contact the Obsess customer success team at contact@obsessVR.com.
Follow along the Obsess blog as we build the future of experiential e-commerce and metaverse shopping. Read more on industry insights and trends.