Brands are moving fast to leverage technology that will empower them with 360-degree, immersive digital experiences. These 3D experiences offer a natural opportunity for brands to enter into the metaverse.
Immersive digital experiences are powered by Augmented Reality (AR) and Virtual Reality (VR). AR and VR, while used interchangeably, have distinct differences. Typically, AR uses aspects of real-world settings and environments enhanced by computer-generated graphics, whereas VR is entirely virtual. A way to think about the distinction, as Wunderman Thompson reports, is "Augmented reality is when you're still within your current environment, and you're just overlaying computer graphics on top of what you're seeing—whereas with virtual reality you're taken to a different world." Most people have their first interaction with AR through filters on Snapchat and Instagram and with virtual try-on technologies on beauty sites. Whereas, most people have their first interaction with VR on the web via games, virtual tours, and virtual stores.
Snap, Meta, and Apple Invest in VR and AR
The rapid rise of immersive technology has prompted the world's most powerful tech and social media companies to invest significant capital and resources towards the research and development of AR and VR products.
Meta, as part of its October 2021 rebrand, invested $10 billion in VR and AR in an attempt to pivot the firm's focus from social media to the metaverse. This transition has been in the works for a number of years, beginning when Facebook acquired VR-headset startup Oculus for $2 billion in 2014. According to a March 2021 report from The Information, nearly a fifth of all Meta employees — about 10,000 people — are working on VR/AR in the company's Facebook Reality Labs (FRL) division. FRL is responsible for developing the software that will lay the foundation for Meta's virtual platform.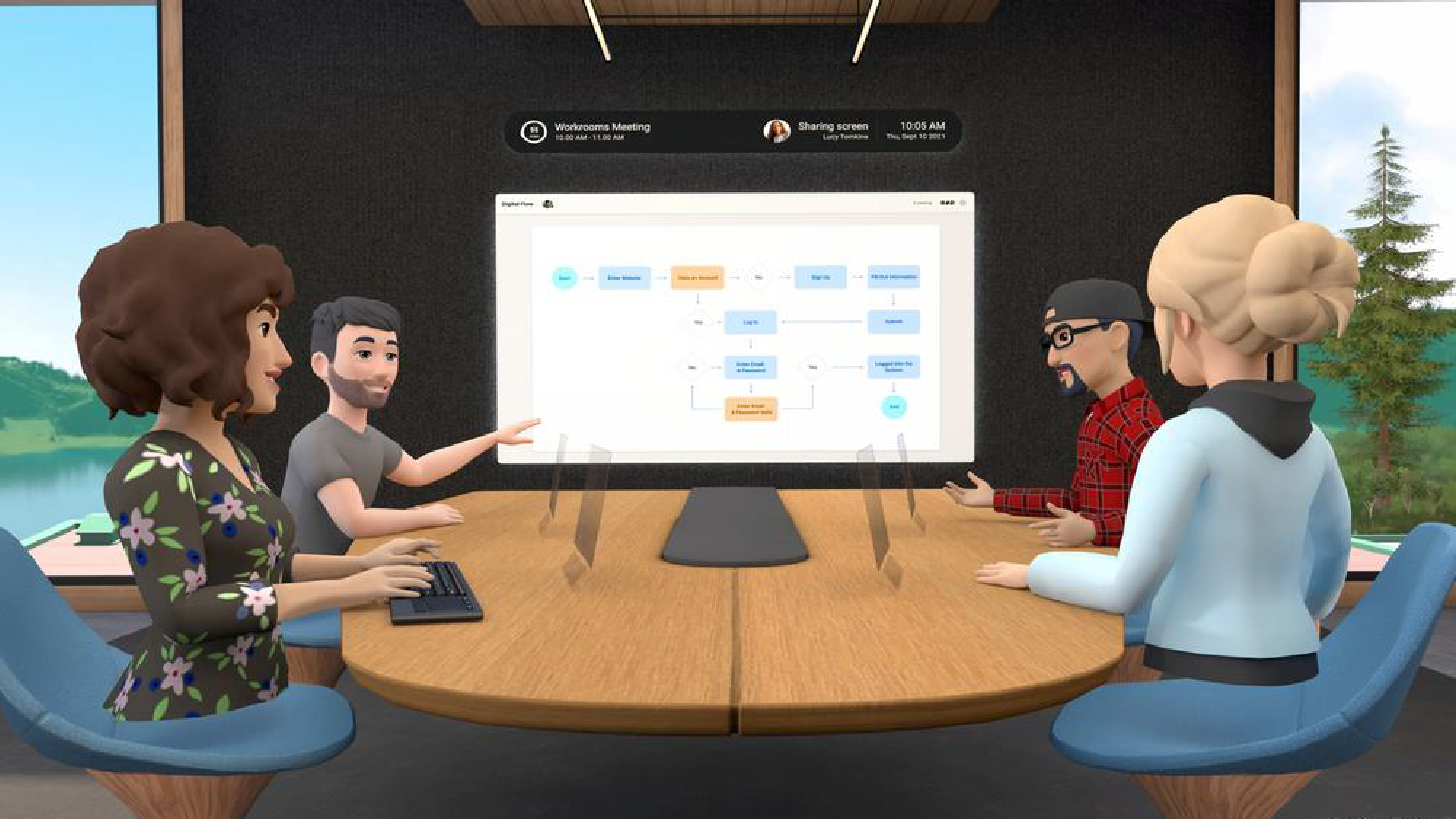 Apple announced the expansion of its AR focus in January 2022, stating it has plans to grow the App Store's current collection of 14,000 AR apps. The iOS 15 software update included AR-backed positioning and locating features on the Maps app. It is anticipated that the company will build AR tools for 1 billion devices around the world. Recently, CEO Tim Cook responded to a question regarding the company's metaverse plans, saying, "We see a lot of potential in this space and are investing accordingly." On the hardware side, Apple is working to introduce an AR headset with glasses in either 2022 or 2023, according to Bloomberg.
The most innovative element of Snap Inc.'s business is arguably in its augmented reality lenses, which were most of the world's introduction to AR. Through these lenses — which today number at 2.5 million and have accumulated over 3.5 trillion views on the app — users are able to augment and alter their appearances from an extensive catalog of options that include fantastical and increasingly lifelike features. In addition, Snap has a global creative studio called Arcadia dedicated to helping brands develop augmented reality advertising and experiences. The studio has partnered with leading brands to grab the attention of Snapchat's millennial and Gen Z audiences. Snap advanced further into the AR space in 2021 with its acquisition of WaveOptics, a company that makes lenses and other hardware that can be leveraged in AR glasses. With the acquisition, Snap can match its competitors and develop AR glasses that will allow users to see computer-generated imagery overlaid on top of the real world. One common goal of all these companies is to perfect easily-wearable AR glasses, which will allow people to see digital items overlaid on the world around them.
Oculus Quest is the Best-Selling VR Headset to Date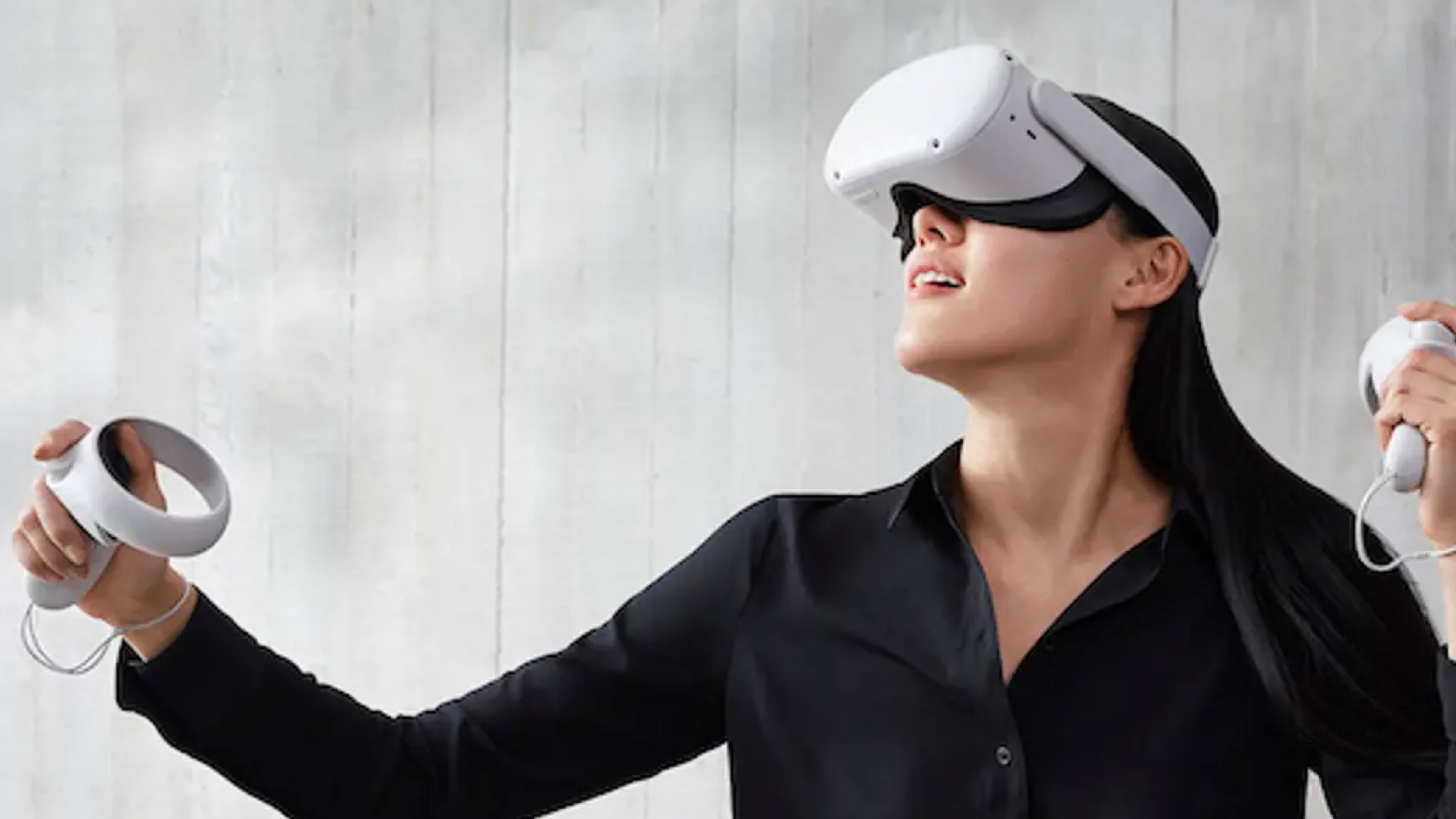 Currently, the Oculus Quest is the leader in wireless VR headsets. The first edition of Oculus Quest introduced immersive gaming to both newcomers and seasoned gamers across the world. The pandemic accelerated adoption of the Oculus Quest and its applications transcended from gaming to everyday lifestyle activities, like fitness workouts. According to Meta Quest news, Oculus Quest 2 "is the next generation of all-in-one VR with a redesigned all-in-one form factor, new Touch controllers, and a high-resolution display." With the launch of Quest 2, users are able to "squad up with friends in different time zones, meet up with real people at virtual events, and create, play, [and] explore together from wherever." The audience for Oculus Quest is still predominantly male, but female ownership is ever increasing. In the last three years, the Meta Quest store — which initially launched in 2019 and provides a platform for the headsets' games — has more than quadrupled in revenue. In fact, total sales have surpassed $1 billion, marking a massive uptick in people buying VR software since the release of the Meta Quest 2 in late 2020 (PCGamer).
Headset-Based Experiences by Retailers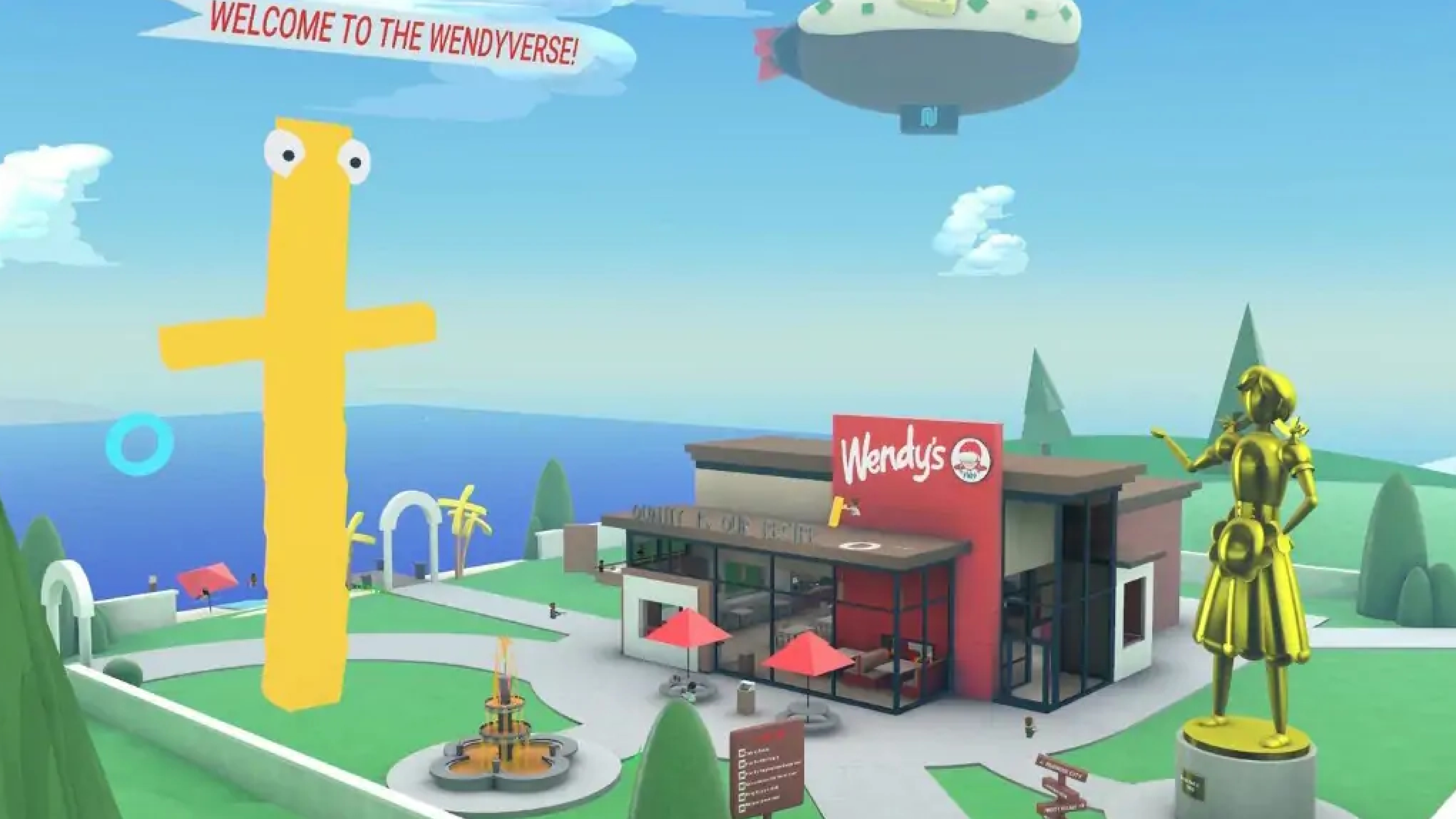 Retailers have ventured into headset-based experiences and have begun exploring the capabilities of immersive VR. One example of this is the global fast-food chain Wendy's. Wendy's created its virtual world, dubbed "Wendyverse", in the metaverse in partnership with Meta's Horizon Worlds. With Quest 2 VR headsets, users enter the Wendy's 3D-world and walk through a virtual town that is entirely Wendy's themed, replete with a virtual restaurant, a Fanta-filled park fountain, and an online arena where users can play basketball with a virtual Baconator burger. Wendyverse visitors also receive a coupon for a $1 breakfast sandwich to use in real life. The Dyson Demo VR is a 360-degree virtual reality environment that enables customers to style virtual hair and interact with 3D images of Dyson machines. The virtual experience is accessible through the Oculus store for Quest VR headset owners. Users enter a virtual showroom and can experiment with a range of products from the Corrale straightener to the Airwrap styler and test different styles on virtual hair. Sean Newmarch, Dyson's e-commerce director, commented, "Covid-19 has presented the digital world with unprecedented opportunities, and we're seeing a heightened focus on how companies are bringing their products to life for consumers virtually" (Glossy).
Brands Leverage AR Try-On Tools
Beauty and fashion brands are harnessing the power of AR try-on tools to improve the customer's buying journey and encourage purchasing decisions virtually. AR try-on tools allow customers to try on clothes, makeup, and skincare products, without physically being in a store. Two of the main players in the AR try-on space for beauty are ModiFace and Perfect Corp. ModiFace beauty try-ons track the facial features in precise detail to create an accurate, photo-realistic makeup simulation. Perfect Corp provides a range of virtual try-on technologies from AgileHand, AR hand–tracking technology to AgileFace, AR face–tracking technology. Brands are exploring virtual try-on within their websites to provide consumers with an accurate sense of the look, feel, and size of the product. NARS offers an interactive, AR try-on via their website where customers can "try everything once" through simulations on live video. The NARS virtual store powered by Obsess enables users to virtually try on over 500 shades of lip color and find their ideal foundation shade with Matchmaker AR technology.
Beauty brands are leveraging AR filters that enable augmentation and alteration of appearances to increase consumer engagement and interaction. Instagram AR filters help brands showcase their products in a fun, interactive way and engage worldwide audiences. The 'Kylie Hearts' Instagram AR filter by Kylie Cosmetics allows fans to create a fantastical heart-shape, blush makeup look. While the 'Air Matte' AR Instagram filter by NARS provides users with a more realistic view of how the blush colors from their Air Matte selection will appear on them; users can choose the shade that best suits their skin type. The Dior Makeup Instagram AR filter empowers users to lay gemstones over their faces, pushing beyond the boundaries of real-world makeup and "creating a new form of 'homoinstagramus' beauty." With the 'Norvina Arcade' filter by Anastasia Beverly Hills, users can play with four different personalities and try on a purple unicorn teddy, bunny ears, a blue alien, or the Norvina eyeshadow palette filter.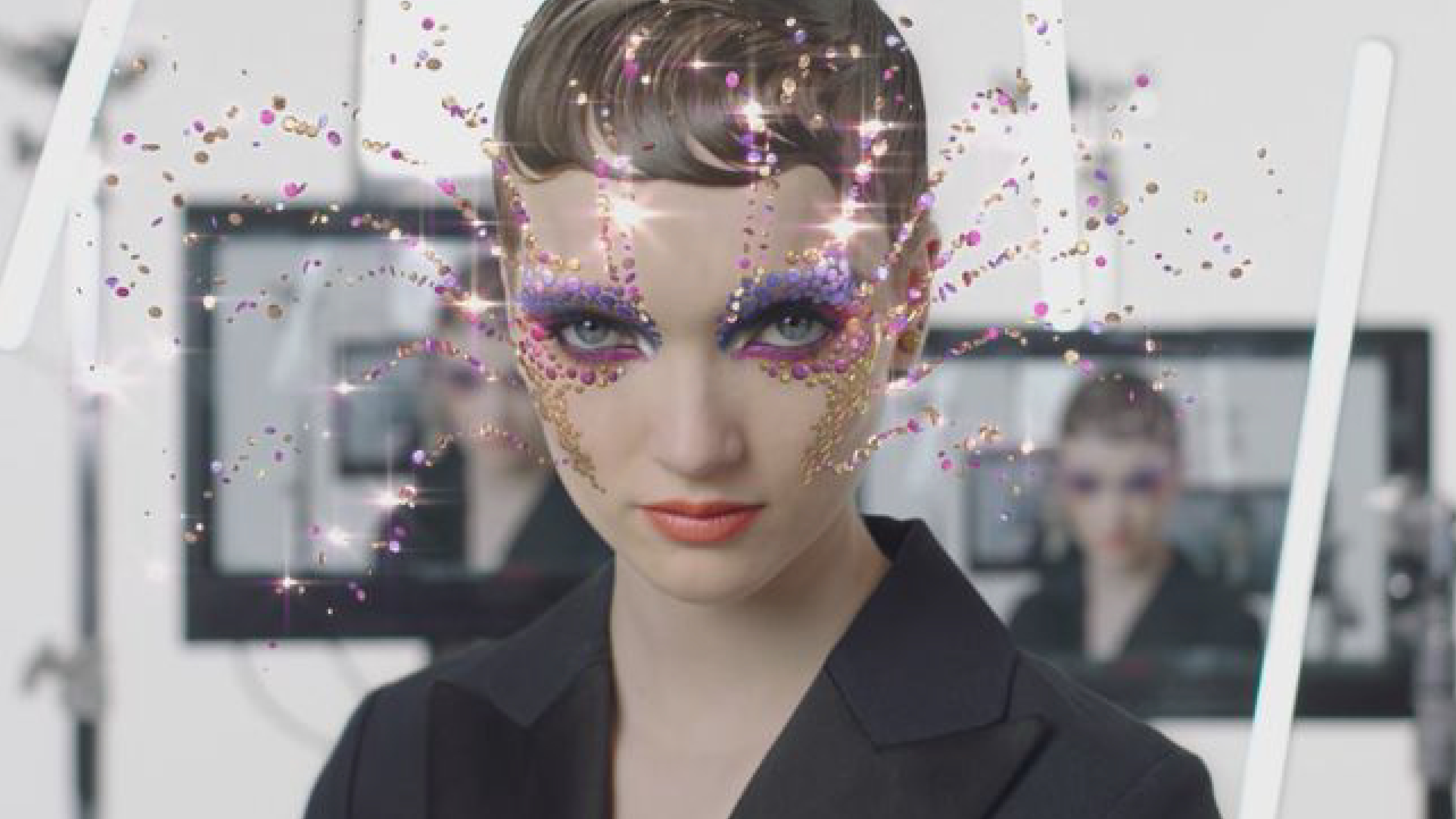 Fashion and jewelry pioneers of AR try-on tools include Farfetch, Prada, and Piaget, all of which leveraged Snapchat's virtual try-on features "that [detect] and [respond] to body movements and facial dimensions" (Vogue Business). Users are encouraged to test the products on themselves through easy-to-use filters that can be both voice and gesture-controlled. Farfetch, for example, leveraged Snapchat's technology to allow users to see clothing displayed on their bodies — a tool that is enabled by 3D Body Mesh which maps the human body and develops a cloth simulation that makes the clothing appear as if it is affected by gravity. Pieces from Off-White by Virgil Abloh were available for try-on, and voice-command features matched users' words to items in the product catalog for a bespoke experience. Prada, as well, leveraged Snap's hands-free try-on technology to detect hand gestures, enabling users to set down their phones and try on Prada handbags by using "swiping" gestures to switch the colors of the products. Piaget employed Snap's AR technology to allow users to try on bracelets and watches — a perfect application for a brand specializing in just that.
Retailers Create VR Stores
Leading brands are leveraging VR and journeying into the metaverse with interactive, 3D virtual store experiences. Virtual stores enable retailers to offer new, unique experiences and elevate their traditional e-commerce sites. Obsess, the leading Virtual Store Platform, enables brands and retailers globally to offer interactive 3D virtual stores on their sites that can be accessed on a computer or smartphone, or with VR headsets. AR try-on technology can be integrated into virtual stores and as customers discover products in the virtual environment, and then seamlessly transition to AR to try the product on themselves.
These virtual shopping experiences serve as an entry point into the metaverse. Neha Singh, CEO, and Founder of Obsess, commented in Forbes, "The metaverse is just the next version of the internet. At first, it was just text, then images, then videos. Now hardware on our mobile devices and computers allows for much richer, virtual graphics." These 'virtual graphics' allow Obsess to create realistic online adventures that mirror the highly interactive nature of in-person shopping experiences. Younger generations are growing up in the age of VR and AR-first. The virtual world will become their real world, and they will be — and to some extent already are — shopping, socializing, and hanging out in virtual experiences on a daily basis.
Learn more about how your brand can utilize VR/AR technology to engage customers with an interactive, immersive, 3D virtual store experience, using the Obsess platform.