The National Retail Federation reports November and December to be the most lucrative time of year for retailers, averaging approximately 19% of their annual retail sales. Brands and retailers have to stay competitive and at the forefront of the consumer's mind at all times – especially online, where the majority of consumers plan to make their purchases. But how can you increase the ROI of your holiday e-commerce marketing campaigns?
1. Start early.
With Black Friday, Small Business Saturday, Cyber Monday, and Christmas, the last two months are some of the busiest for the retail industry. For the high spending seasons like the end-of-year holidays, brands and retailers start their prep early; many start planning their holiday marketing campaigns in August or September so that they can kick off the campaigns in early October, or even late September. Over the past decade, over 50% of consumers start shopping around for presents in early November, with approximately 40% of consumers starting in late October – it's in your best interest to kick off your annual holiday campaigns sooner rather than later to capture the early birds' attention while simultaneously giving your campaigns time to optimize.
2. Stand out.
With the plethora of marketing campaigns around this time of year, it pays to stand out.
Branding is an important aspect of holiday e-commerce marketing because of the consumer's openness to discovering new brands/products; it's important to increase awareness and buzz for when consumers are finally ready to buy something. One way to do this is to create a memorable experience for your customers. Physically, this typically translates into over-the-top holiday decorations for your retail stores, themed pop-ups, or even having special guests make an appearance. Digitally, this is typically more difficult but virtual stores provide brands with an easy opportunity.
Virtual stores can be a valuable addition to your digital holiday marketing campaigns because they enable brands and retailers to create unique, custom, and memorable experiences for your customers. Combining fantastical elements with practical functionality, you are able to either digitally recreate a physical experience or get creative with something completely out of the box – you're not bound by physical constraints, so the options are endless. The Obsess team will work with your creative team to create the store of your dreams and help your campaign stand out from others using innovative retail technology.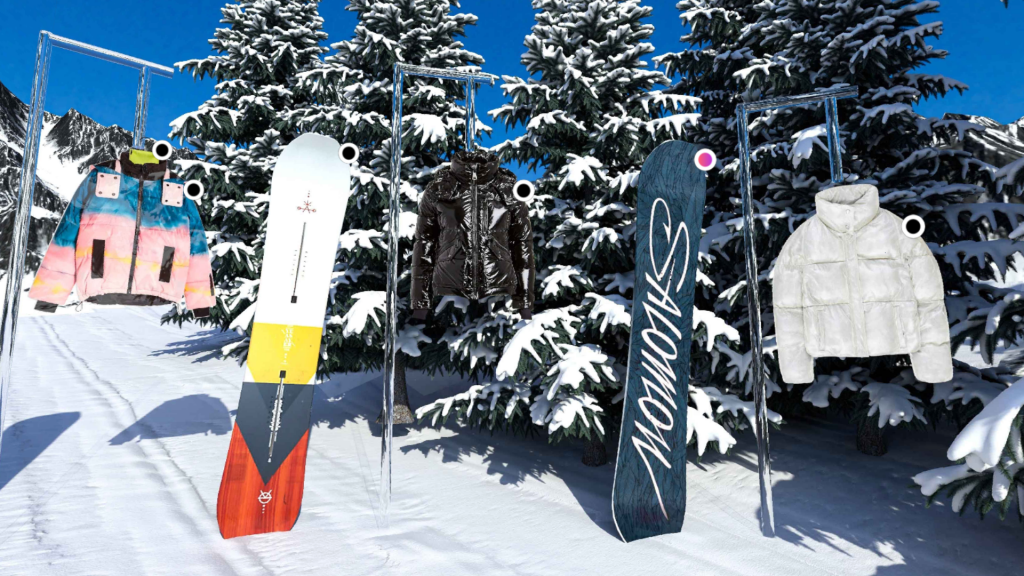 3. Thoroughly engage.
Brands and retailers will also want their campaigns to be engaging, to keep them relevant and at the top of the consumer's mind throughout the season. Using AR and VR technology in the retail industry helps increase engagement rates across the board. Proprietary data from 4+ years of creating virtual stores and experiences has shown that the Obsess virtual store platform increases engagement both with individual products and the brand.
Virtual stores are interactive, immersive, discovery-driven, and filled with fun content for users to engage with. Between games, quizzes, gift guides, videos, and other interactive elements, there are a lot of ways to get your audience to engage with your brand. The rich array of relevant content for individuals to interact with also increases the average time spent within the store and prompts users to explore the experience in its entirety, driving them to discover more products.
For example, many Obsess partners use gamification as a means to provide their customers with special promo codes – think scavenger hunt that unlocks a code upon completion. Within the virtual experience, brands and retailers can prompt users to complete a task to obtain a special discount or gift. When introducing the task, you have the opportunity to prompt action and create urgency by highlighting scarcity (i.e. first x amount of people get a gift with purchase) or a time limit/countdown (i.e. must complete before x date).
Bring online shopping to life with compelling, creative content in a highly contextual environment to capture the joy of the holidays, even if the user is shopping from their couch.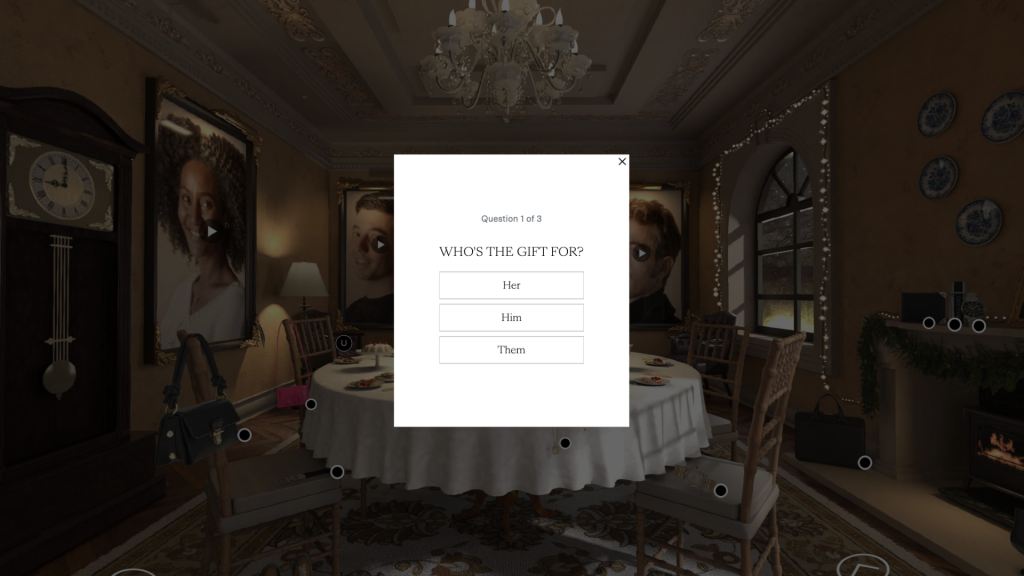 4. Be personal.
The traditional e-commerce shopping experience is dry – it's thumbnail after thumbnail on a plain, white grid, making personalization difficult. As convenient as the typical online experience is, many people still crave the personal touch of shopping in-person. So how do you make the online shopping experience personal?
Virtual stores make online shopping personal by appealing to the user's human nature through social features that help mimic the in-person experience. With innovative capabilities such as selfie booths with AR filters, one-on-one service consultations, the ability to shop with your friends, live streaming with influencers, and other features, there's no shortage of ways to make your user's shopping experience unique to them. Obsess has even created a feature where the user can add their own touch to the room itself!
5. Keep data.
Keeping data is important to better understand your customer and therefore optimize your e-commerce marketing campaigns. You have to know what your customers are interacting with, where they are interacting, etc. to sell to them.
Virtual stores serve as another (unique) sales channel for you to obtain data to utilize in order to boost sales and can be a valuable addition to your e-commerce marketing strategy. You control the e-commerce transaction in virtual stores and therefore are able to own the data associated with it. Get direct consumer data and see where your customers are clicking – which products they are interacting with, which pieces of content they find most appealing, etc. – to determine how you want to move forward in your retail strategy.
Increase ROI of your digital holiday marketing campaigns this year and boost your sales with virtual stores that increase awareness and engagement throughout the busy season. Learn how Obsess can help you build your own virtual store by emailing us at contact@obsessVR.com.